Fast, cheap, and delicious – Thailand's street food scene is one of the biggest in the world, attracting millions of hungry tourists every year. In Bangkok alone, there are over 500,000 street food hawkers. The food options are overwhelming, ranging from hot rice meals to noodles, desserts, snacks, fresh fruits, and drinks, to name a few Thai Street Foods to Try
In Thailand, street foods aren't just convenient, cheap eats – street food culture is practically a way of life. Most Thais eat full meals in street-side food shacks. Many sellers perfect only a specific recipe rather than having an extensive menu. That's how you know the food's good! Suffice it to say, Thais take street food seriously. 
So, what street food to get on your next food crawl? Here are our favorites:
These are some Thai Street Foods to Try
You can't go on a food crawl without sampling any of the unique street foods in Thailand. Here are some of the yummiest street foods you should try: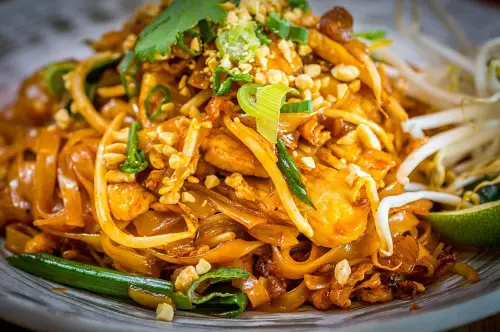 Pad Thai (ผัดไทย)
No doubt one of the country's most iconic dishes, Pad Thai is also quite the attraction in the street food scene. In fact, you can buy pad Thai on every street corner in major Thailand cities. 
Pad Thai is a stir-fried noodle dish with fresh vegetables, egg noodles, bean sprouts, fried eggs, and peanuts in a tamarind-lime palm sugar base. It's tangy, spicy, and sweet with a delectable crunch. This dish is often served with shrimp, shredded chicken, or tofu.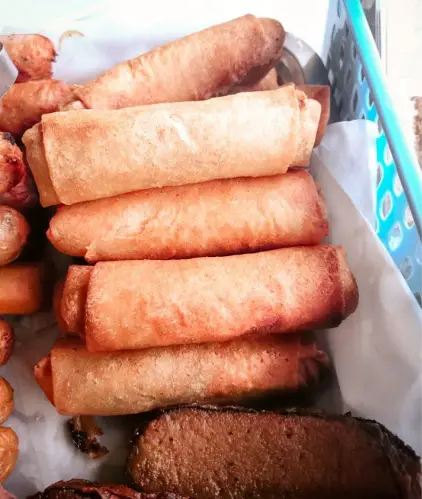 Paw Pia Tod (เปาะเปี๊ยะทอด)
Crunchy spring rolls stuffed with minced meat, vegetables, and rice noodles are always available in most food stalls in Thailand. The spring rolls are served freshly fried and drenched with sauce – usually sweet chili sauce, hoisin sauce, or peanut sauce.
Because spring rolls are readily available and easy to pack, these are often eaten on the go. Spring rolls are a popular snack, but these can easily become a light main dish when eaten with steamed rice. 
---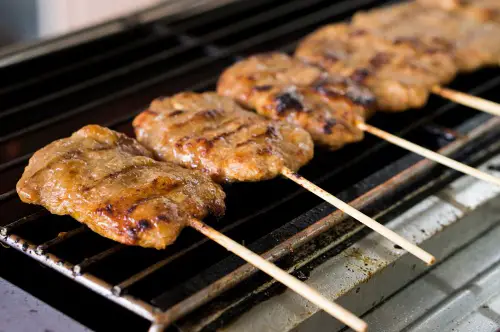 Moo Ping (หมูปิ้ง )
Moo ping is Thailand's local pork barbeque. It's soft, sweet, and moist – perfect to be eaten hot off the grill with a serving of khao niew or sticky rice. This street food is sold in many parts of Thai cities. Hawker stalls with smoking grills piled with skewered pork are a typical sight in markets. 
The dish is made from thinly sliced pork shoulders and seasoned with a brown sauce marinade. It's cooked on a charcoal grill to create a smoky taste and a light char and brushed with unsweetened coconut cream that makes a delectable glaze.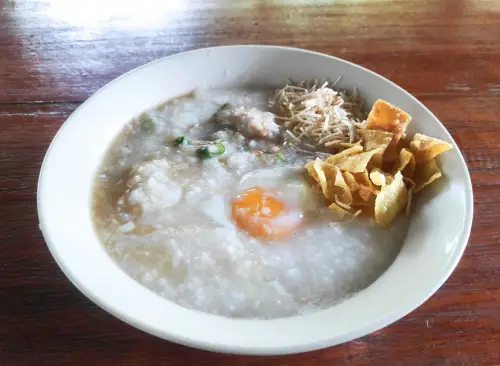 Jok (โจ๊ก)
Jok is a rice porridge usually served for breakfast, but since it's readily available, it's enjoyed any time of the day. This dish is an excellent choice if you are looking for something hot, flavorful, and filling. 
Jok is made from local jasmine rice simmered in pork or chicken broth. Minced pork, meatballs, and pork liver slices are added as the porridge cooks, then seasoned with fish sauce, sliced ginger, and garlic. Jok is topped with fried shallots and chopped scallions with a hardboiled egg before serving. 
---
Kai Jeow (ไข่เจียวหมูสับ)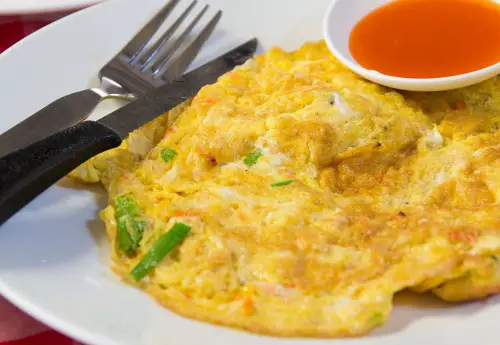 Kai Jeow is a savory omelet served with various fillings and cooked on a hot pan. It has a delectable pillowy texture and a rich, savory flavor thanks to the combination of meat and vegetable fillings.
Like many Thai dishes, kai jeow has different variations. Some are made with ground pork; others are made with minced shrimp and even crabmeat. The omelet is made from chicken eggs seasoned with fish sauce and light soy sauce.  
Kai Jeow is served piping hot and can be eaten on its own as a snack or served with steamed rice for a filling meal.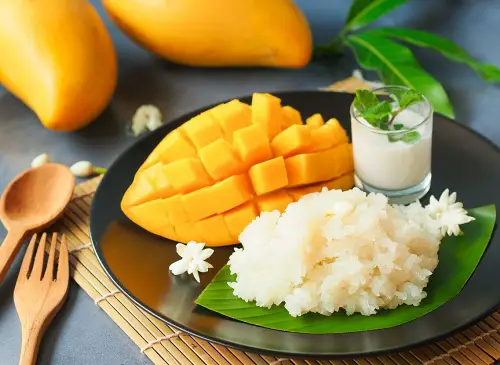 Kao Niew Ma Muang (ข้าวเหนียวมะม่วง)
One of the most iconic street foods in Thailand is mango sticky rice. Like most street foods on this list, kao niew ma muang is sold on every corner, so it can be enjoyed any time of the day. 
Khao niew ma muang is made from silky, lightly salted sticky rice simmered in coconut cream and served with sweet mango slices and coconut cream sauce. It's filling, delicious, and affordable! If you're crazy about kao niew ma muang, we suggest visiting Thailand from April to May when mangoes are in season!
---
Roti (โรตี)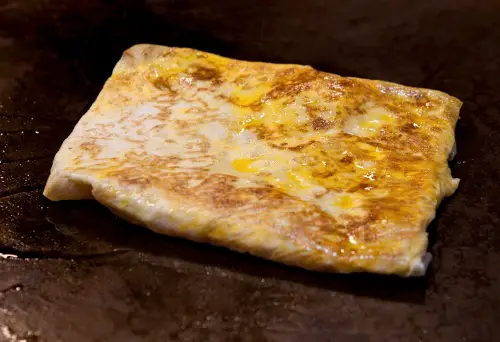 Roti may have originated in India, but the Thais are good at adding their own twists to foreign eats. Roti is a pan-fried flatbread, and in Thailand, it's either sweet or savory. The sweet roti is stuffed with chocolate sauce, condensed milk, and banana, while the savory kind is stuffed with cheese, sweet corn, or eggs. 
Roti is made from scratch, and it's a real treat to watch the vendor stretch out and fry the dough over a hotplate with a flourish before chopping the bread into bite-sized pieces.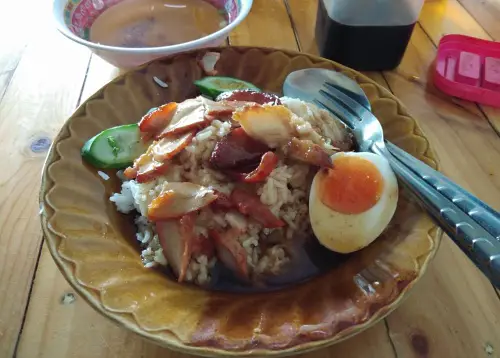 Khao Ka Moo (ข้าวขาหมู)
Khao ka moo is a dish made from slow-braised pork trotter on a bed of hot, steaming rice. It's flavorful, filling, and comforting – the perfect cure for a hangover or a grumbling belly! 
This dish is heavily influenced by Chinese cuisine. While Khao ka moo is often made with pork trotters, it's sometimes served with generous slivers of pork neck. The dish is typically served with a side of pickled mustard greens or water spinach, a hardboiled egg, and lots of chili peppers!
---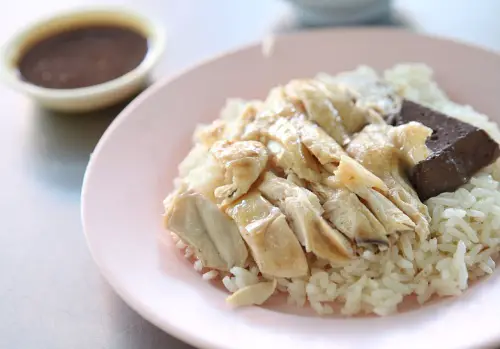 Khao Man Gai (ข้าวมันไก่) 
Khao man gai, which translates to "rice fat chicken" in the Thai language, is precisely that, a serving of fatty, delicately seasoned chicken slices served on top of fragrant steamed rice. This dish is similar to the famed Singaporean dish, Hainanese chicken rice.
The chicken is poached in a delicious garlic, ginger, and cilantro infusion until its fall-off-the-bone tender with an almost buttery texture. The chicken stock is collected and used to simmer the rice. Khao man gai is served with a small bowl of soup and a dish of hot sauce. The sauce is made from a mixture of soybean paste, chili peppers, ginger, soy sauce, and garlic. 
Guay Teow (ก๋วยเตี๋ยวเรือ)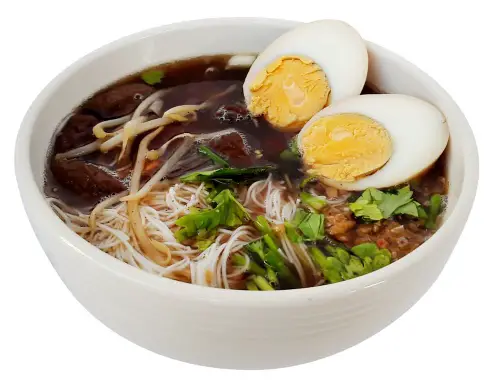 Rounding up our list of must-try street foods in Thailand is another comfort food called Guay tiew. Just like Khao man gai, Guay tiew is heavily influenced by Chinese cooking. If you're looking for warm, satisfying soul food that'll fill you up nicely, we recommend ordering this delectable dish. Often called the most famous or the must-try street food. Guay Teow is usually delicious and ready in minutes, due to the seller keeping large stocks of broth on hand that they serve up with different meat and vegetables to the customer's taste.
This noodle dish is made from slow-cooked beef, pork, or chicken and is topped with meatballs and local vegetables. Guay tiew has different variations; some have wontons instead of meats, and there are vegetarian versions. Guay tiew is so popular that you can find big bubbling pots of it being sold on the streets. 
---
Is it safe to eat street food in Bangkok?
Yes, in general, street food is safe to eat. Hundreds of thousands of Thais and local ex-pats, cannot be wrong, can they? But you know yourself better than anyone else, if you have a weak stomach then be cautious about ordering street food.
Safety is always a priority in Bangkok because food tourism is one of the city's main attractions. Sellers carefully prepare the food using clean tools. Most dishes are cooked as ordered. But to just be safe, we suggest eating from hawker carts where the food is cooked as you order.
Where is the Best Street Food in Bangkok
Street food can be found almost everywhere in Bangkok and Thailand. If there is no seller at the moment, just wait a while, one might be coming. However, street food is changing in Bangkok. The Metropolitan Authority of Thailand is forcing street sellers off the streets and into markets in some areas.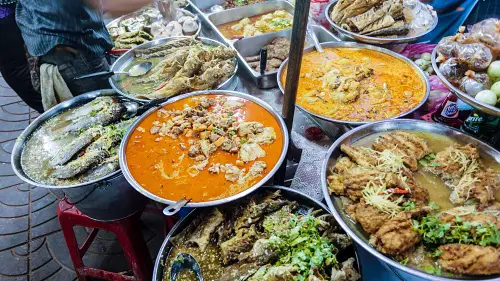 Street sellers can still be found at the following locations:
Boat Noodle Alley at Victory Monument (Anusawari)
Chinatown (Yaowarat)
Asiatique The Riverfront — Charoen Krung Road, Sathorn.
Baan Klang Nam 2 — Rama III Road.
Sukhumvit Road – though many local Thais would not eat there, as it will be expensive
Ratchawat Market & Sriyan Market.
Charoen Krung Road.
Bang Khun Non.
Petchaburi Soi 5.
Talat Phlu, Thonburi
Sukhumvit 38 (aka Suk 38)
Nang Loeng Market
Ramkhamhaeng – across from the university
Sam Yan Market, close to Chulalongkorn university
What is the biggest street food market in Bangkok?
Thailand is known for its sprawling street food markets, but Khlong Toei Market is the biggest and most diverse. This is the place where even people from the food business are sourcing fresh ingredients for big restaurants. Food hawkers line up the place along with vendors selling fresh fruits, herbs, vegetables – you name it. 
The market at Chatuchak also has many street food stalls and while it may be a bigger market overall, it is a very diverse market, with only a small portion of the market devoted to street food.
How much is the average street food in Thailand?
Thailand street food is cheap, averaging 30 to 100 baht. Desserts and drinks are more affordable than main meals. These prices reflect the big city and food is definitely cheaper outside of Bangkok. Also street food on Sukhumvit road, or anywhere that tourists congregate will often be 50 to 100% higher than the same street food away from the tourist areas.
Ready to explore Thailand's diverse and colorful culinary delights? Don't forget to order some of the street food we've listed above.