The short answer to the question; can I smoke weed in Thailand? – is not legally – yet.
The long answer is, like most things in Thailand, a bit of a gray area. There are cafes and marijuana festivals springing up all over the place. Though the law was officially changed in 2018 to allow for medical use, on the ground things are moving much faster. Many cannabis cafes have dedicated smoking rooms for patrons to spark up.
Update – To illustrate the extent of the gray area regarding marijuana smoking in Thailand I offer the following story.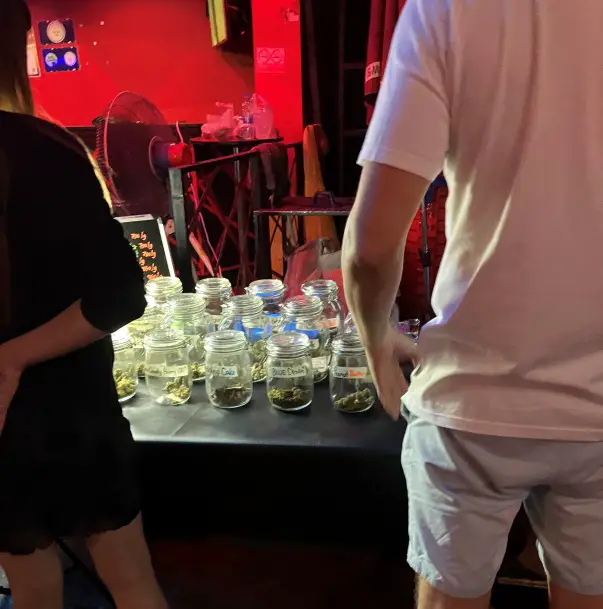 Recently I was in Bangkok for a meeting, Thursday 25th of August, 2022.
After the meeting, I walked through Soi Cowboy from Soi 23 towards Asoke.
We had gone to Scruffy Murphys first to listen to Lee Shamrock play, so the time of my stroll through Soi Cowboy was approximately 11:30 PM.
Not 15 meters from the intersection of Soi Cowboy and Soi 23 there was a table full of glass jars containing different strains of marijuana for smoking. The table was set up in front of a well-known go-go bar on Soi Cowboy.
The odor of marijuana smoke was in the air, indicating that people were smoking marijuana.
The reason I find this significant is that anyone who has been to Soi Cowboy will know that the entrance to the Soi is always staffed by some members of the police force and this evening was no exception.
So, here we have a table set up in the street with marijuana for sale and people smoking marijuana, not 15 meters from where there is an active police presence. Marijuana has been decriminalized and it is illegal to sell and smoke marijuana in public, however, it is possible to do so.
Update, September 15th, 2022. Just a quick one, I had another business dinner in Bangkok and after the meeting we again strolled down Soi Cowboy, this time from the Asoke side. I can report that there is an almost exact replica of the table pictured in this article on the Asoke side of Soi Cowboy as well.
Part 1: The New Law
Just this week August 14 – 20th, Thailand's Health Minister, Anutin Charnvirakul reiterated that recreational pot-smoking tourists were not welcome in Thailand, but he also stated that recreational use could be explored once there was a better understanding of the drug. "It might come in the near future," he said.
Please note: Officially it is illegal to smoke weed in public, with fines of up to 25,000 baht and up to 3 months of jail time.
With the approval of cannabis use exclusively for medical purposes in 2018, Thailand took the first step toward legalization. However, there was much controversy surrounding the plant's legalization in the country. Many establishments including spas, wellness centers, and clinics have been using marijuana for various wellness treatments throughout the country.
In June 2022, marijuana and hemp were removed from the FDA's narcotic list, bringing joy to cannabis enthusiasts across the kingdom. Thailand has become the first Asian nation to decriminalize marijuana for industrial, medical, and personal use. But it is not entirely legal. Let us understand why.
It has been the long-time advocacy of Thailand's Health Minister, Anutin Charnvirakul, that marijuana should be used medically. He argues that decriminalization not only facilitates the treatment of chronic diseases and can bring other health benefits but can also be beneficial for Thailand's economy.
But at the same time, Mr. Charnvirakul and other members of the Ministry of Health have made it crystal clear that recreational use is still not only discouraged but also prohibited and can result in fines or imprisonment.
You can find a useful guide to Thailand's current cannabis legislation at Thailand Weed, a sample of which follows:
Thai law allows the sale of CBD-based or hemp-based cannabis products.
If marijuana is intended for medical use, it can be homegrown with the Thai government's permission.
Getting marijuana from government-approved hospitals or cannabis clinics requires a medical prescription from a licensed physician.
Medical and science-related uses of parts of the plant, including bud and seeds, are now legal.
Mixed Signals and A Blurry Picture
The amendment is facing a lot of challenges in the country. A variety of cannabis products have been openly sold in cafes and stalls, and potent marijuana flowers have been displayed in jars. As a result of the new law, Thailand now has perhaps the most liberal marijuana regime anywhere in the world. The minister for public health, Anutin Charnvirakul, was seen eating curries laced with marijuana, and being applauded by farmers hoping that it would help them earn some money. The minister took this step considering the economy and medicinal use of marijuana in their ancient culture.
The plant is now gaining popularity, with entrepreneurs opening marijuana shops and more people using it for a variety of reasons. This is now causing a worrisome situation for the government, and they have made additional changes to the amendments. That is why Thailand makes marijuana legal, but smoking is forbidden.
Apart from registering to do so and declaring that it is for medical reasons, it does not appear there will be any attempt to police what people can grow and smoke at home. Officially households may grow up to 15 plants per household, but they should be registered with the government.
Several Thai activists celebrated the new law by buying marijuana from a café that previously sold products made from parts of the plant that don't get people high. Some dozen people showed up early at the Highland Café to pick from a variety of buds, including Sugarcane, Bubblegum, and UFO.
So, Is Marijuana Legal in Thailand?
Yes, but with a few restrictions. Growing cannabis is legal, but you need permission to do so. For more on the legal side and the actual laws go here.
It is necessary for home growers to notify the government via a website or smartphone app first. The number of applications received from key growers is nearing 750,000.
A license from the Food and Drug Administration is required for commercial and industrial marijuana growers.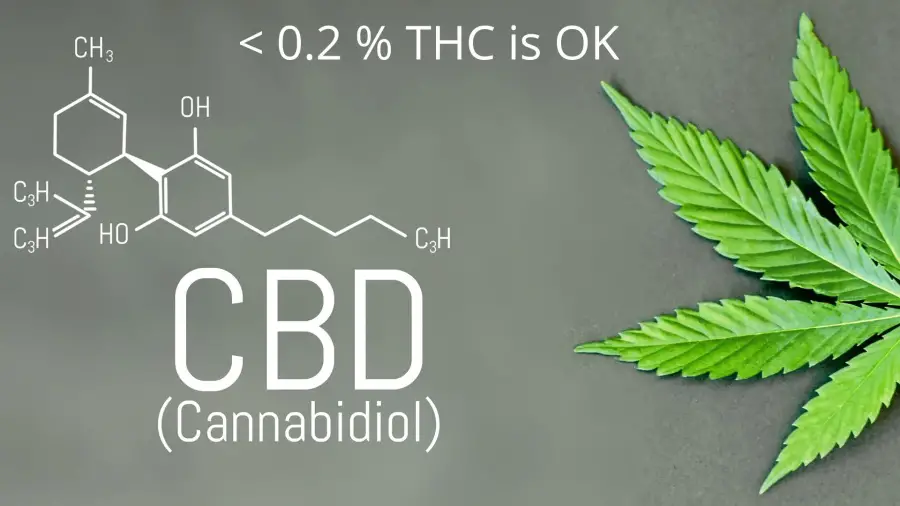 Similarly, restaurants are allowed to use cannabis.
They will need an FDA-certified producer of the plant who can supply the required quantities to the restaurant.
Cafes and restaurants are allowed to cook with marijuana leaves and roots, and they must assure that THC levels must be lower than 0.2%.
In some stores, you can also purchase cookies, teas, and other snacks infused with the sacred plant. But THC (Tetrahydrocannabinol) content should be less than 0.2% is the overarching rule for cannabis consumption.
Why Is the Government Concerned About THC?
Cannabis contains the psychoactive compound THC, which produces a feeling of ecstasy.
That is why the legal limit for serving cannabis-infused food and drinks in cafes and restaurants is 0.2% tetrahydrocannabinol (THC).
Unfortunately, people don't seem to be following that rule, and this is where the confusion arises. You can see buds sold over the counter at the Highland Café in Bangkok.
There was a report which stated that "several" cannabis cafes have opened up in Bangkok since June when Thailand decriminalized pot for the first time in Asia. Most of those cafes are not following the law and THC limit.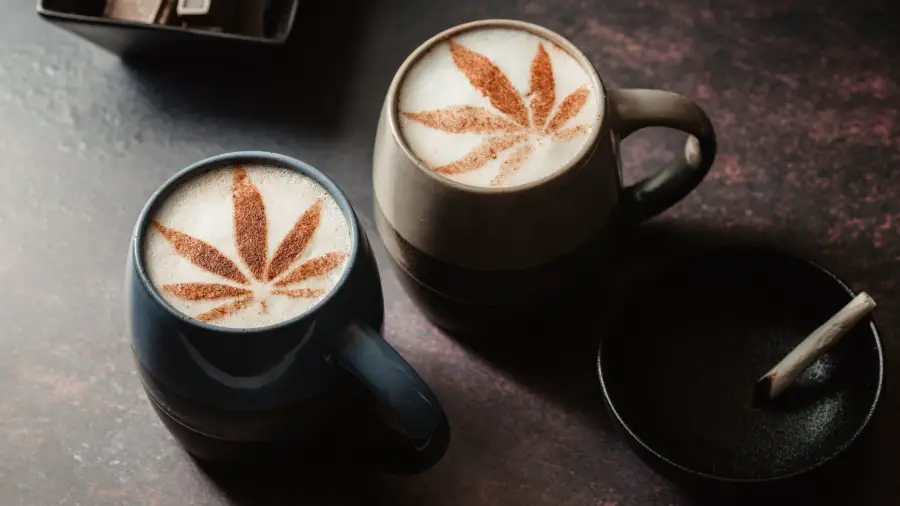 Additional regulations are being drafted regarding its use by the government. According to the government, cannabis can only be used for medical purposes, not recreationally, but it's hard to see how they will enforce this restriction.
Mr. Siripakorn Cheawsamoot, Deputy Governor of the national tourism authority confirmed that the law does not cover recreational cannabis use, so tourism promotion is focused on medical uses.
An upcoming bill that will regulate cannabis use is being debated in a parliamentary committee and could have a significant impact on cannabis cafes.
Thai Health Minister Anutin Charnvirakul warned against smoking joints and imposed tough penalties on those who use the drug to get high.
So in a nutshell Thailand still has laws that restrict the consumption, smoking, and non-productive use of cannabis products. The Public Health Act includes a three-month jail term and a USD 800 fine for smoking cannabis in public.
What Tourists Should Know?
All foreign tourists need to think twice before lighting up a joint in public. It can be a huge trouble if someone caught you doing that.
Cannabis policies will be promoted in Thailand for only medical purposes. The law does not apply if [tourists] come for medical treatment or health-related products, but if you want to come to Thailand just because you heard it's legal to smoke cannabis or marijuana (or) come to Thailand to smoke joints freely, then you might face some charges and legal action.
In Thailand, cannabis has been legalized to promote medical and health benefits and is restricted to people over the age of 20 (unless they get a doctor's permission to use it). The Ministry of Public Health has designated marijuana and hemp as controlled plants.
Moreover, it is forbidden to smoke cannabis in public. There is a potential prison sentence of three months and a fine of 25,000 Baht for this crime. cannabis can now only be produced and consumed for medical or health-related reasons; it cannot be used recreationally.
And remember, it is illegal to import cannabis and hemp extracts, hemp-derived products, and any parts of cannabis in Thailand.