Out in the wilds of the dark side of Pattaya there is construction going on. A new Pattaya Medical City at Thammasat University campus, has begun. The construction is already underway for a 300 bed hospital not far from the roundabout that leads to Siam Country Club – Plantation Course and Bira Circuit. The hospital will be an integral part of Thammasat University Pattaya Campus. Eventually evolving into a Medical City that will be part of the EECmd (Eastern Economic Corridor) initiative.
Many sources cite that the location for the new medical city is close to Maprachan Lake, in reality it is out at the end of Siam Country Club (Pornprapanimit) road very close to Highway 36. Thammasat University already has a campus out there and the area adjacent to it is now under construction. The new hospital is scheduled to open late 2023 to early 2024.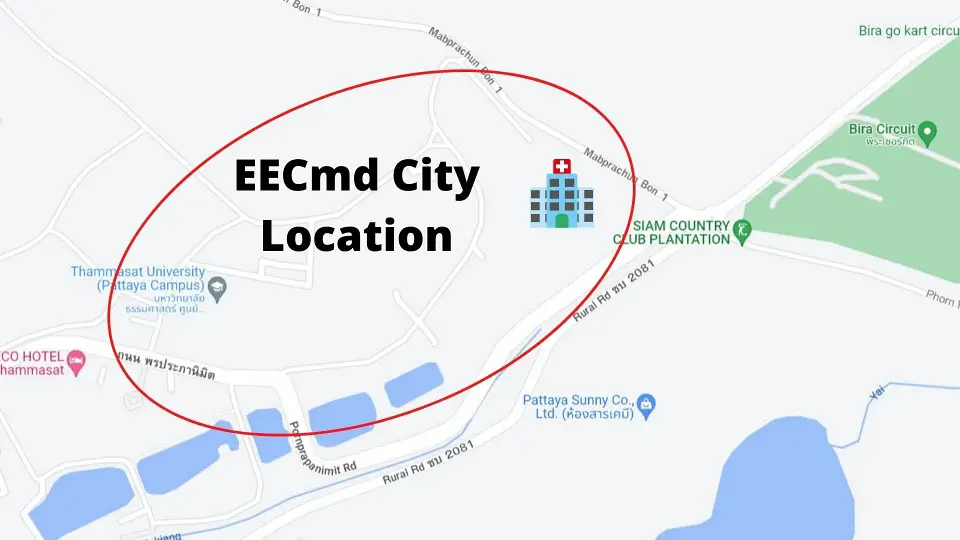 EECmd City Location
Hospital Building currently under construction is shown.
Google Map to the right showing interactive location.
Nearly a million square meters
That is correct – nearly a million square meters of development (566 rai, or 223 acres). The new Medical Valley (or City) is adjacent to the current Thammasat Campus and very close to Bira Circuit, and Highway 36. The area is planned to be, dare I say "a hub" of smart technology.
"Thai medical services are growing steadily, thus Thammasat University, Pattaya Campus aims to become an Academic Hub, a Medical Hub and a Service Hub for a full range of medical services."

Dr. Nattadon Pannucharoenwong, Assistant to the Rector for Administration, Thammasat University Pattaya campus
"Plus, we aim to establish strategies to become an i-Campus @Pattaya. For example, we will create a smart bus stop, smart trash can with a sensor system, use electric vehicles (EV), produce pure energy with Solar Roof and Float Solar cells, and be a Smart Campus model that will be a Paperless Campus in the future,"

Dr Nattadon adds.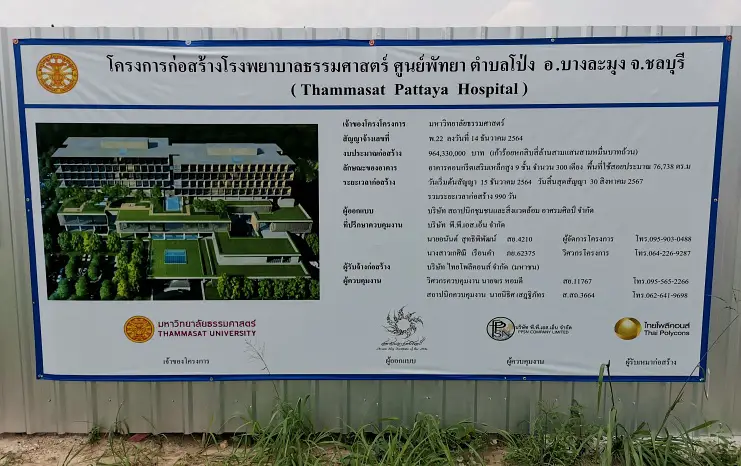 An Academic Center for Medicine and Medical Science
The intention is for this Medical City to be a center for medical research and innovation. It will be a medical hub and house a number of downstream industries.
Thammasat Hospital will sit on 95 rai of land Phase 1 (300 beds) and Phase 2 (another 300 beds). Chulabhorn University will have 111 rai dedicated to the Chulabhorn International College of Medicine and a high-tech medical research institute will sit on 60 rai of the valley. A state-of-the-art medical school experience will be available to students from all over the world.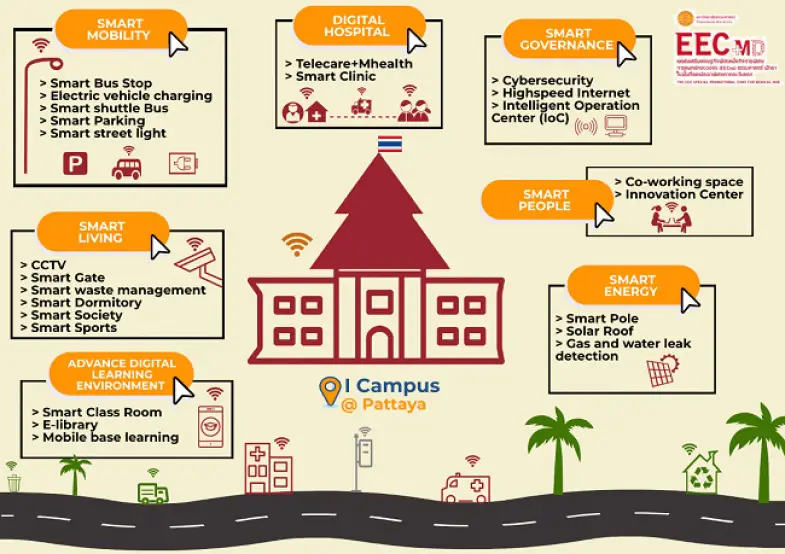 Dedication to care of the Elderly
One of the areas will be dedicated to the care and treatment of senior citizens and the elderly. This will be known as Lakeside Premier Complex and will promote a better quality of life and greater understanding of an aging population and seniors. Digital dentistry, elderly health care, occupational health and environment center and specialty clinics to treat chronic diseases are all planned for this complex.
Projected to be Thailand's first medical hub, EECmd of Thammasat University Pattaya will offer complete health care and medical services for Thailand's aging population.
An Academic Center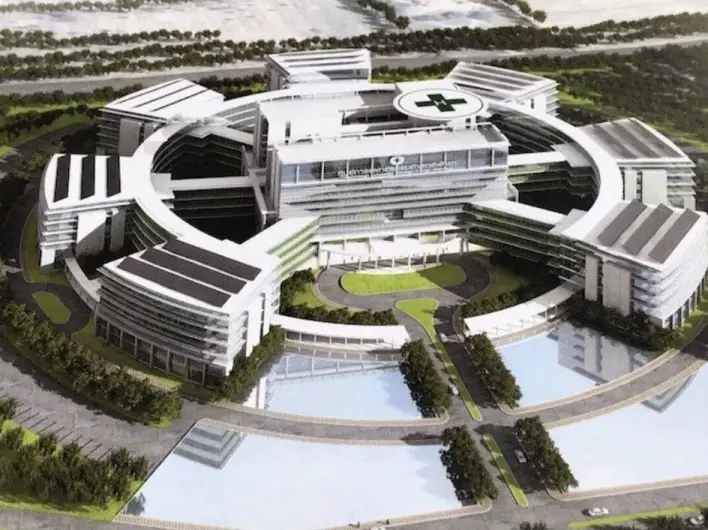 The EECmd will be a medical hub of innovation and learning. Teaching will focus on Advanced Digital Learning and providing international courses and bilingual courses in Medical Science, Engeneering Science and Technology.
Six facilities are to be opened: (Courtesy timeshighereducation.com)
1). Faculty of Allied Health Sciences (short program) for normal citizens on elementary physical therapy and exercise to promote healthy lifestyle. The program includes both theory and practice. Course duration is about one to three months.
2). Faculty of Pharmacy offers 1 Bachelor's degree program, which is the Science Program in Cosmetic, Sciences and Natural Products.
3). Faculty of Engineering offers 3 Bachelor's degree programs, which are Software Engineering, Mechanical Engineering, and V-TECH.
4). Chulabhorn International College of Medicine offers 4 Bachelor's degree programs, which are Radiological Technology (new track), Radiological Technology (high school graduated), Optometry, and Thai Traditional Medicine (integration).
5). Faculty of Public Health offers 1 Bachelor's degree program, which is Bachelor of Science Program in Occupational Health and Safety (updated course from Occupational Health and Safety 2018).
6). Faculty of Dentistry plans to open graduate courses in specialized dental clinics, including Orthodontics, dental implants, cosmetic dentistry, oral surgery, and digital dentistry.
For the internships, Thammasat University will send students for internships in organizations and agencies in the Eastern region. Moreover, it was planned to establish Thammasat University, Pattaya campus, to be a regional examination center for various examinations by cooperating with 5 organizations as follows.
Thammasat Competency Testing Center organizes SMART for Graduate Level or Smart II, measuring the level of knowledge in property valuation, Next Generation Leadership Competency Test (GREATS), and Academic Competency Test (GSAT).
Language Institute Thammasat University organizes TU-GET exam.
Chulabhorn International College of Medicine organizes BMAT, Chinese Test, and CPSQ Test.
School of Global Studies organizes the IELTS exam.
The Faculty of Liberal Arts organizes Japanese Test.
Investment from around the World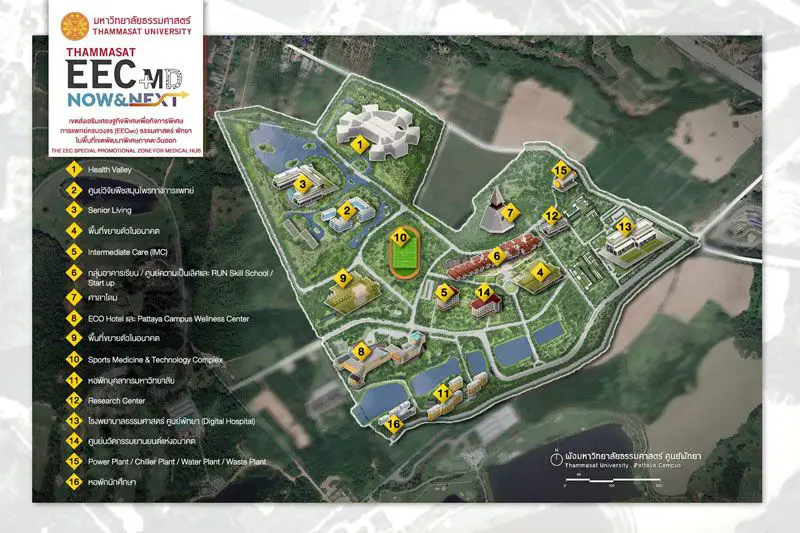 Attention from around the world is being sought in the development of the Medical City. Thammasat University has signed memorandums of understanding with over 25 organizations to collaborate in the medical hub. The EEC office, the Ministry of Digital Economy and Society, Chulabhorn University, and Japan based Denso Corporation to name a few.
"EECmd is also looking for cooperation with startups, as well as local and foreign investors who want to invest in healthcare technology and a digital hospital."

Kammal Kuma Pawa, Thammasat University's vice-rector for administration at the Pattaya campus.
Talks are underway with the University of California, Los Angeles (UCLA) the University of Chicago and private hospital associations in Thailand to encourage investments under EECmd.
"EECmd has a high potential for attracting investors in the healthcare and wellness areas, which are part of the S-curve industries being promoted by the government."

"Kanit Sangsubhan, secretary-general of the EEC Office
EECmd is part of the EEC, a new high-tech Thai industrial hub, covering parts of Chon Buri, Rayong and Chachoengsao. It's purpose is to provide a world-class health care facility to the surrounding communities and to support economic expansion, investment and tourism.
Up to 2.2 trillion baht is expected to be spent to support investment projects in the EEC area over the next five years.
Thailand is already a know center for medical services in Asia. with over 1000 public and over 400 private hospitals. Pre-pandemic Thailand had over 2 million medical tourists from around the world seeking everything from general checkups, dental care, hip replacement, laser eye and cosmetic surgery, to kidney transplants and heart surgery.
The EECmd medical valley (city) will build on that trend.
Pattaya is already a hub of good medical facilities
Pattaya has many hospitals that are already catering to the residents here. The best Pattaya hospitals can be researched here. Pattaya is a vibrant city with superlative medical facilities, and the addition of a new hospital to the mix will be the icing on the cake. There are already 7 major hospitals in the Pattaya area, (5 private and 2 government) but you can never have too much of a good thing.