Pattaya has 6 major hospitals available for health care. Two government hospitals (Banglamung and Pattaya City) and 4 private hospitals, ( Bangkok Hospital-Pattaya, Jomtien Hospital, Pattaya Memorial Hospital, and Pattaya International Hospital. You choice of hospital will be determined by your budget, your needs and the type of care you expect. Pattaya offers some great choices for when you require care.
People with full insurance will choose one of the 4 private hospitals. If you are paying the bill personally then do not overlook the government hospitals as the care there is good.
Private Hospitals
Bangkok Hospital Pattaya
Regarded by many as the premier hospital in the Pattaya area Bangkok Hospital Pattaya is located in Naklua, on Sukhumvit Road. Just after the Pattaya North road as you are heading west. Founded in 1990 with 100 beds Bangkok Pattaya Hospital now has over 400 in-patient beds and many specialized clinics and therapies.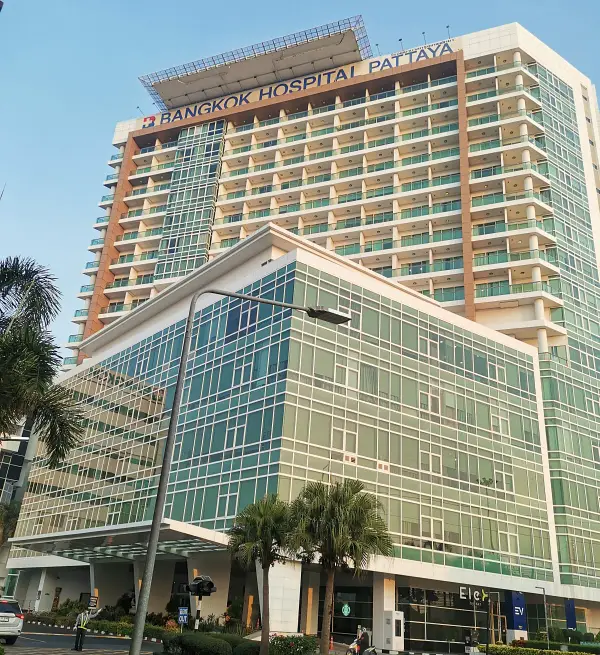 It is the biggest private hospital in the area and is part of the BDMS (Bangkok Dusit Medical Services) group of hospitals. BDMS is the largest medical provider in the Kingdom of Thailand with many hospital groups under their umbrella.

Bangkok Hospital Pattaya is a large facility with many clinics and special care facilities available, with a large well-staffed emergency clinic. It is arguably the most expensive facility in Pattaya and you may wish to check your insurance cover before going there.
The facilities are modern and the private rooms are more like a 4-star hotel than a hospital. They have interpreters available to assist you with any treatment and indeed English is spoken by the majority of medical staff. The hospital has a 24-hour emergency room and is a tertiary referral hospital for the Eastern Seaboard of Thailand.
Jomtien Hospital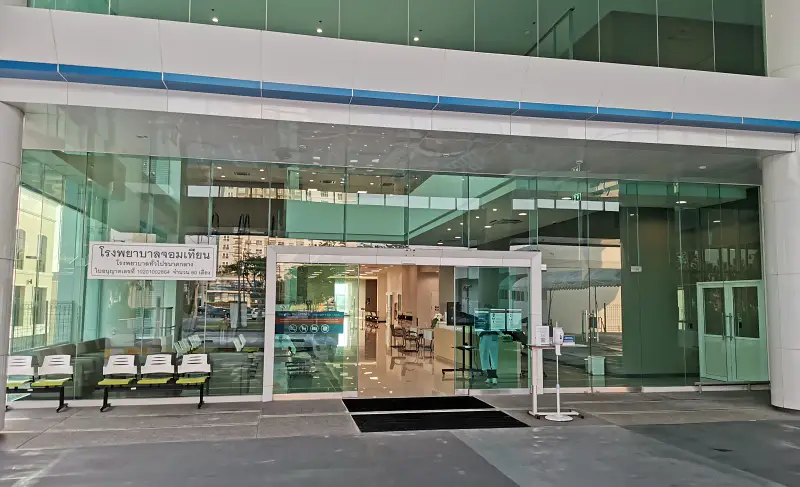 Jomtien Hospital is a brand new facility that opened its doors in 2020. It is located on Sukhumvit Road between South Pattaya and Thepprasit Road. The facility is somewhat spartan in nature at present due to the lack of tourists and indeed Thai population in Pattaya due to the pandemic.
Jomtien Hospital is part of the BDMS group and stands ready to cater to all when they return. Prices in Jomtien hospital are similar to Bangkok Hospital Pattaya. Jomtien Hospital has over 200 in-patient beds available and 24-hour emergency service at the clinic next to Sukhumvit.
Pattaya International Hospital
Pattaya International Hospital is found on Soi 4 Pattaya beach road, not far from 2nd road. The hospital has good equipment, staff and many specialized clinics within the building.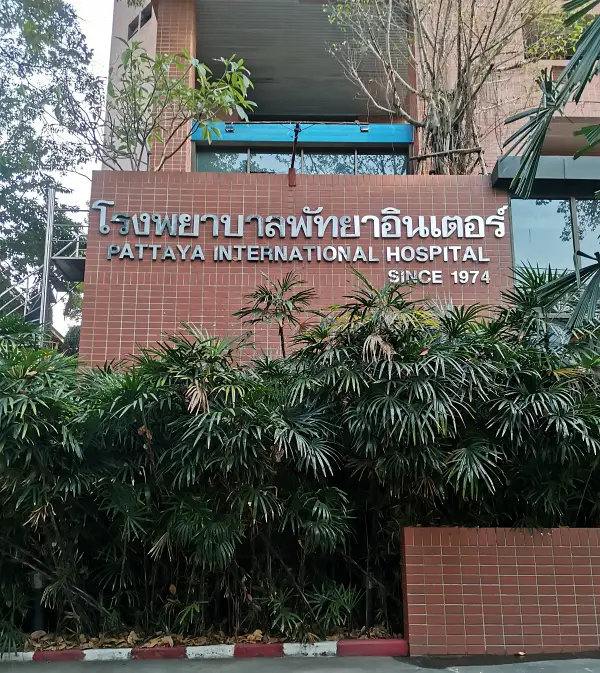 Address for Pattaya International Hospital
It is a smaller facility than Bangkok Hospital Pattaya and considerably less expensive. Many ex-pats choose this hospital for their treatment. I personally have used Pattaya International on numerous occasions and like the facilities and the personnel.
English is widely available, but other languages are less common. There are 80 in-patient beds, 24-hour emergency services and a full range of facilities.
Pattaya Memorial Hospital
Pattaya Memorial Hospital is the oldest private hospital in Pattaya, opening its doors in 1981, it has been in operation for 40 years. It is arguably the least expensive of the private hospitals in Pattaya. Many people recommend the treatment that is given there as being more sensible and down to earth than their competitors.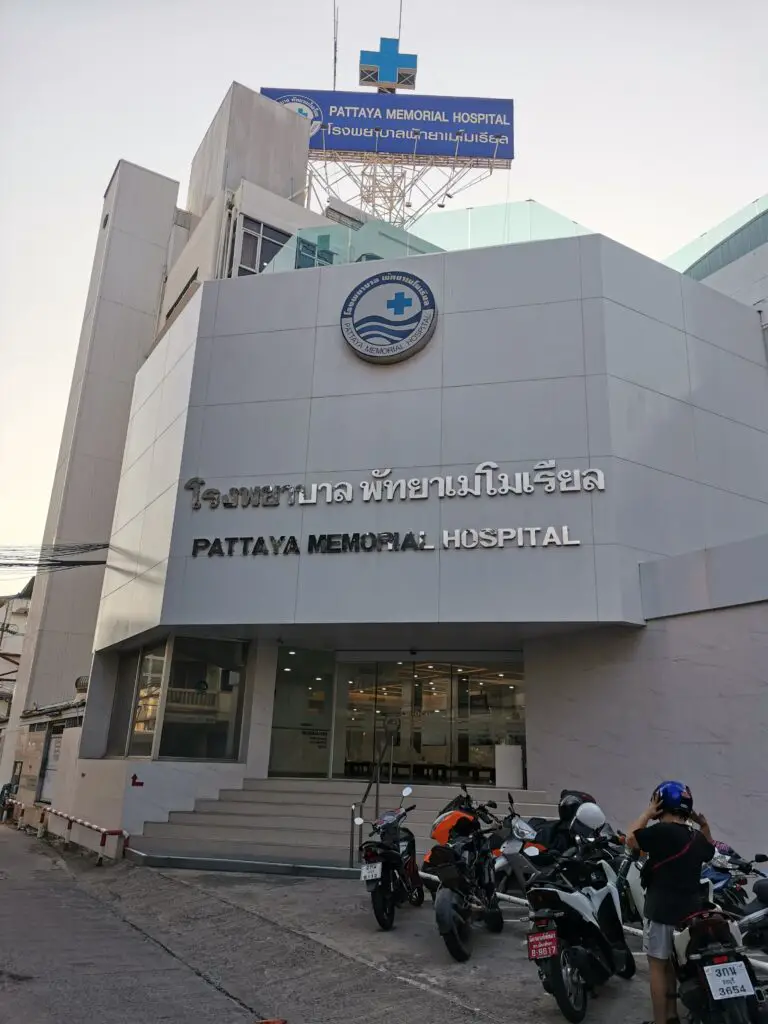 Address for Pattaya Memorial Hospital
The hospital is located just of Pattaya Klang, very close to the intersection of Pattaya Klang and second road. The hospital may be reached from both the second road side and the Pattay Klang side through small sois.
Pattaya Memorial Hospital has 54 in-patient beds available and a well equipped 24-hour Emergency room that is close to downtown Pattaya.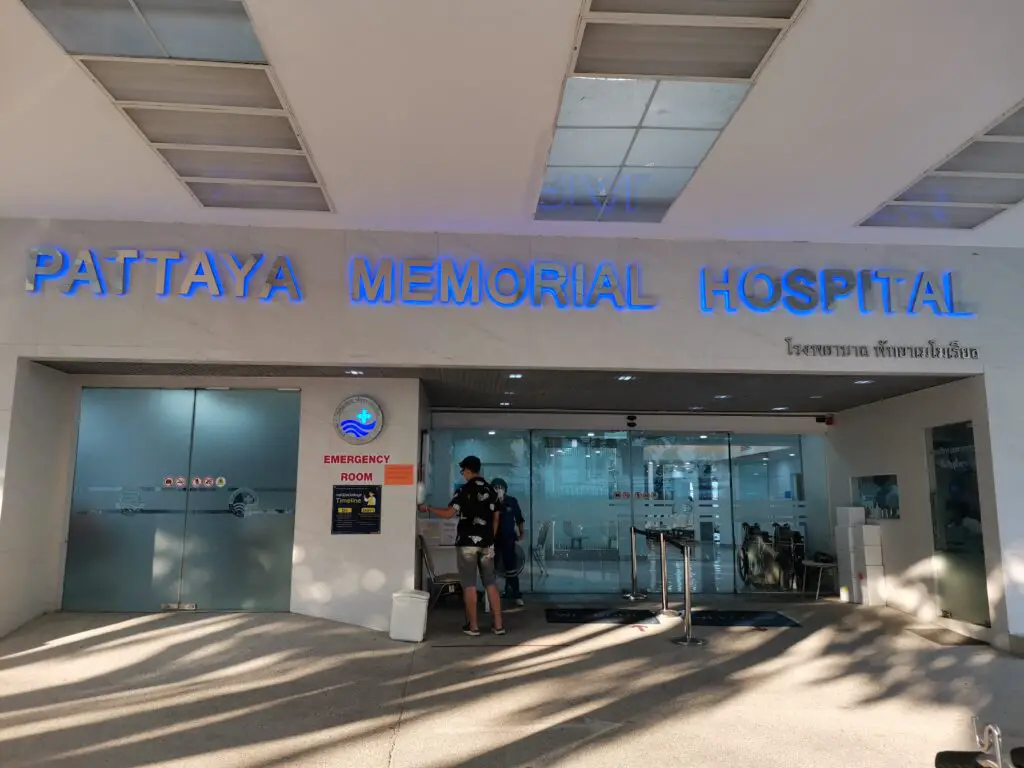 Government Hospitals
Banglamung Hospital
Banglamung is the largest Government Hospital in Pattya City. Located in the Naklua area of Pattaya, it can be accessed off the Sawangfa road leading away from Sukhumvit.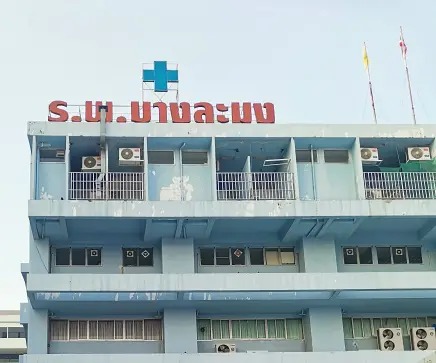 Banglamung is getting a refurbish at present and as you can see it is in need to some TLC. The facilities are pretty basic, but the staff is knowledgeable. However, it is still open to the public and is utilized every day by many people. It would be advised to bring someone with you who can speak the Thai language as the level of English spoken by staff here is limited.
Banglamung Hospital has over 120 inpatient beds and is open 24 hours a day.
Pattaya City Hospital
Pattaya City Hospital is a government hospital located close to the downtown core of Pattaya city. located on Soi Buakhao close to the Soi Lengkee intersection. The hospital is open 24-hours a day. This hospital is more modern than Banglamung Hospital and is favored by many Ex-pats who live here and tourists who do not have insurance.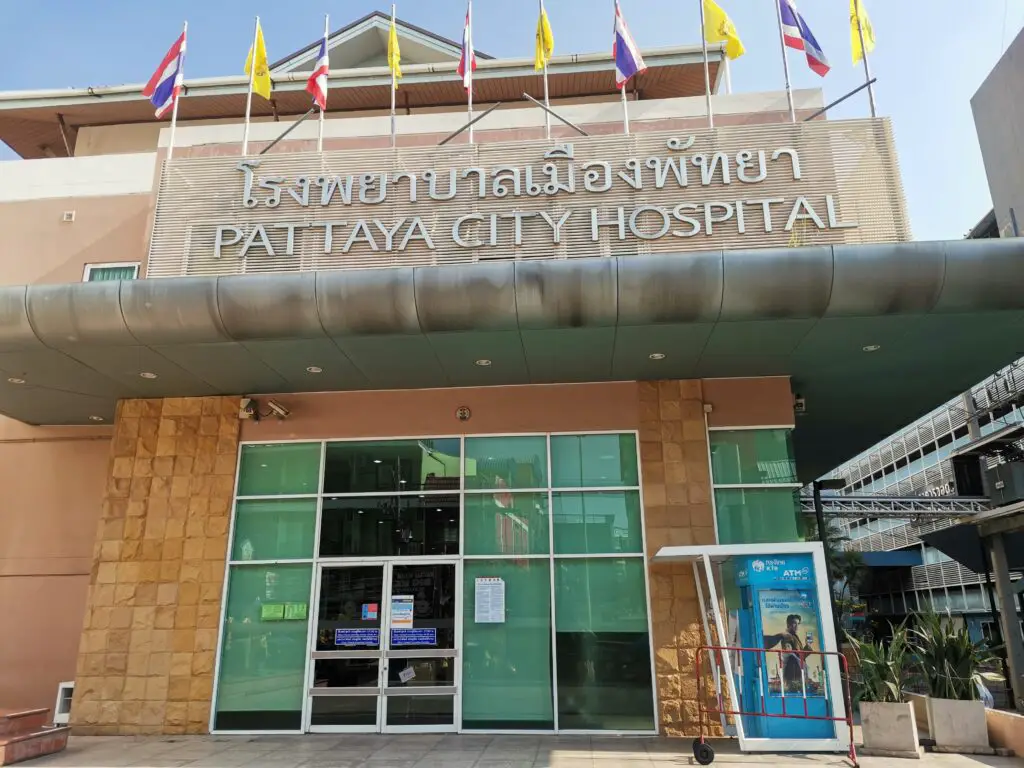 Pattaya City Hospital has 100 inpatient beds. The prices are lower here as this is a government hospital. However you may be expected to pay extra if you are a foreigner.
Summary
With everything from basic government care to 5-star facilities you are well covered in Pattaya when you find yourself in need of a hospital. I urge you to review carefully before making your choice. All of the hospital here will allow foreigners to be treated in their facilities, but remember the costs will vary significantly depending on where you go.
I have used Bangkok Pattya Hospital when my company was providing insurance and it is indeed top notch. I have used both Pattaya International and Pattaya Memorial under my own insurance, where outpatient care is customer pay. Neither location was expensive.
I have not used Pattaya City Hospital, nor Banglamung Hospital, though I have visited people in Banglamung hospital and the facilities are indeed basic.
Addendum – April 2022
As of April 2022 there has been an announcement from Thammasat University that they are constructing a new 600 bed (Phase 1 – 300 beds) hospital at the Thammasat Pattaya Campus. The Campus is located on Soi Siam Country Club past the Siam Country Club old course, very close to Bira Circuit and Highway 36. The new hospital will be part of a Medical City and will be a hum of medical innovation and research in Chonburi.