Thailand is world-famous for Thai massages and other traditional herbal treatments. There are a wide variety of spas in Bangkok, ranging from budget spas to mid-range spas to luxury spas. These Spas offer various services, including aromatherapy, mud baths, herbal body scrubs, etc. Today, Bangkok is not only about great beaches but also home to some of the best centers for these types of massages and treatments. In this article, we have covered the Top 5 Hotel Spas in Bangkok.
If you are interested in Stand Alone Spas, check out our sister article.
Mandarin Oriental
This spa features a serene design with a variety of life-enhancing treatments that blend ancient and contemporary therapies.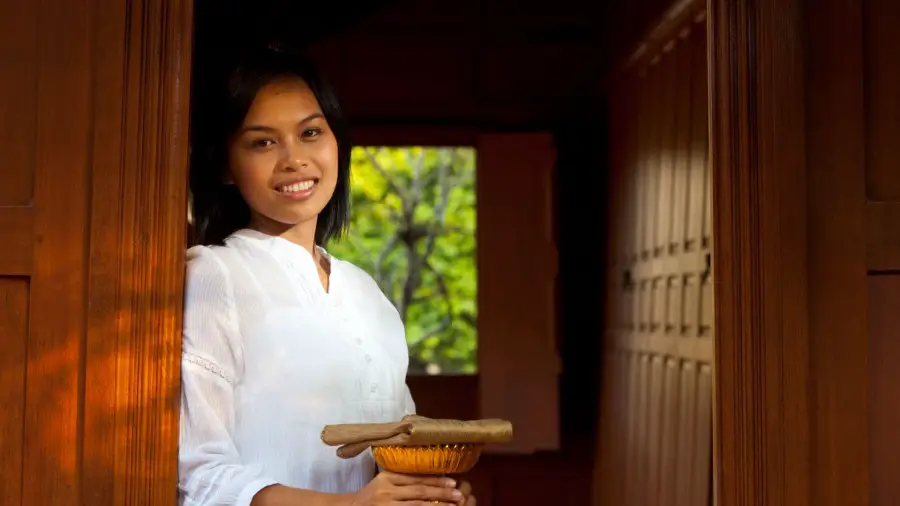 The Mandarin Oriental hotel is a piece of luxury from a bygone era, available today and the Spa is a haven of peace and tranquility. The Spa is located in a restored century-old teakwood house. Private rooms and suites offer a variety of treatments combining traditional Thai and modern Western techniques.
Why Choose Mandarin Oriental?
Oriental Spa is the only spa in Bangkok to have been awarded 5-star status by Forbes, which opened as the first city spa in Bangkok. With 4.7 stars on Google My Business, it has more than 4000 happy customers online.
Service
Massage
Muscles release
Oriental Bamboo Massage
Oriental Essence
Thai Warrior Massage
Oriental Signature
Traditional Thai
Cannabis Relax and Restore Massage
Body
Cannabis Relax and Restore Massage
Thai Thermal Salt Ritual
Cleansing Ritual
De-Stress
Moroccan Indulgence
Programs
Natural Touch
Rejuvenation Experience
Rose Essence
Essential Traveler package
Calm Mind
Oriental Foot Treatment
Jet Lag
Deep Sleep
Advanced Skin Care
Active Tone Facial
Advanced Cellular Hydration
Collagen Vita Skin Facial
Skin Rebalance Facial
Other
Aromatherapy
Inner Strength
Oriental Harmony
Digital Wellness Escape
Oriental Qi
Time Rituals™
Where To Find It?
48 Oriental Ave, Khwaeng Bang, Bangkok-10500, Thailand
Contact No: +66 2 659 9000
Divalux Resort and Spa
You will experience urban elegance at the Divalux Resort & Spa. It is the perfect choice for both business and leisure travelers, with 372 rooms and suites that are beautifully decorated.
It is in collaboration with Praan spa which is just located at the entry of the resort. With great splendor and warm, cozy vibes, the interior design and decoration emphasize Thainess.
Why Choose Divalux Resort and Spa?
Unlike an ordinary spa, here you won't find fancy ingredients used to make you feel good. The professionals here provide holistic health care. They offer spa services, facial massages, Thai massages, foot massages, aromatherapy massages, Onsen, steam baths, and much more to cleanse your body from head to toe. They also have a spa shop that offers many high-quality natural scents: Siam Wood, Homsuvarn, Gincitro, and Coval.
With more than 300 online customers, Divalux Resort and Spa has managed to get 4+ stars on Google My Business.
Service
Traditional Massage
Aroma massage
Slimming massage
Foot massage
Other
Body Scrub
Facial treatment
Foot spa
Hot spring
Where To Find It?
Moo 3-Sriwaree Road, Bang Sao Thong, (Samut Prakan), Thailand 10570
Contact No: +66 2 172 8999
SO/ SPA Bangkok
You will find tailored urban wellness at SO/SPA in the heart of Bangkok, a place of soulful and sublime serenity. This is one of the best spas in Bangkok where you will receive premium wellness treatment. The journey begins with soothing views of Lumpini Park and the surrounding cityscape. After that, you will be welcomed by the ancient body arts of Asia and French skincare products, which will melt away the strains of daily life.
Why Choose SO/ SPA?
SO/ SPA's collection of facial, body, and beauty treatments shows that the multi-award-winning wellness hotel spa is designed to relax and experience tranquility. With dazzling 4.5 Stars on Google My Business, they have almost 3.7k online customers.
Awaken all your senses with one of SO/SPA's exclusive treatments. You can start your day with a signature massage and choose from a wide selection of exhilarating and rejuvenating treatments.
Services
Sensational Skin Sessions
Urban Longevity Facial
Urban Detox Facial
Anti-Aging Golden Glow Facial
Tranquility Pro-Sleep Massage
Serenity Of Five Elements
Experiential Jade Therapy
Face Treatments
The Editorial, Lifting Facial
The Designer, Custom-Made Facial
The De-Corrupt, Luxurious Antioxidant
Recovery Facial
Urban Performance For Men
Beaute Original Haute Couture Facial
Urban Shield Facial
Absolute Control & Focus Facial
Body
So Thai Massage
So Aromatic Massage
Fit Body Massage
A Clarity Of Mind Head Massage
Mohom Indigo Massage
Warm Coconut Soother
Silence Of The Forest
So Here And There
Himalaya Detoxifying Body Scrub
Asian Delight Coconut Body Polish
Hom Mali Jasmine Body Scrub
Skin Reveal Wrap
Glow Treatment
Urbanglow
Morning – After Rejuvenating Hand Ritual Renewing Foot Ritual
Manicure Or Pedicure
Depilation
Other
Couple spa
So Siam So Sabai
Where to Find It?
2 North Sathorn Road, Bangrak 10500 Bangkok
Thailand
Contact No: +66 2 624 0000
Banyan Tree – A Sanctuary for the Senses
With its stunning views, culinary excellence, world-class service, warm hospitality, and close proximity to retail and entertainment areas, this 5-star property is Bangkok's largest luxury hotel.
The Spa service here offers a holistic spa experience with a panoramic view of the city's skyline. A spa treatment is specially formulated with natural and fresh ingredients to replenish your body.
Why Choose Banyan Tree Bangkok
The Banyan Tree Bangkok has over 4000 customers and received 4.5 stars on Google My Business.
To improve blood circulation and ease muscle aches, their team of therapists offers a unique blend of Eastern and Western massage techniques.
Services
Banyan Signatures
Royal Banyan Spa
Thai Blossom Spa
Tropical Rainmist Master
Therapist Experience
Time-Honored Traditions
Chinese Traditions
Indian Traditions
Indonesian Traditions
Thai Traditions
Tailored For Your Senses
Body Massage
Body Scrub
Conditioner
Facial
Calming Bath
Full Body Massages
Balinese
Deep Tissue
Gentle Touch
Thai Classic
Thai Essence
Body Scrubs
Apple Green Tea Polisher
Ginger Lemon Cleanser
Kieffer Lime Refresher
Turmeric Honey Cleanser
Body Conditioners
Aloe Lavender Healer
Chrysanthemum Enhancer
Honey Avocado Healer
Kieffer Lime Mask
Calming Baths
Detoxing Bath
Purifying Bath
Relaxing Bath
Rejuvenating Bath
Facials
Banyan Facial
Sheer Comfort
Hydro Treat
Perfectly Purified
Hand And Foot
Banyan Hand Basics
Banyan Foot Basics
Nail Painting
Where To Find It?
21/100 South Sathorn Road
Sathorn, Bangkok 10120
Thailand
Contact No: +66 2 679 1052/4
Carlton Hotel Sukhumvit (Let's relax spa)
There is no doubt that the Carlton Hotel Bangkok Sukhumvit is among the most luxurious and refined hotels in Bangkok. With an earth and wood-tone color palette and a view of the Bangkok skyline, this hotel is designed in an elegant style exclusively for its customers. They offer guests an oasis of calm in the hustle and bustle of Bangkok's life with Let's Relax Spa.
Why Choose Carlton hotel Bangkok Sukhumvit – Let's Relax Spa?
The Carlton Hotel name is well known around the world and the Bangkok Carlton has just opened it's doors in February 2020. With most of the hotels shut for 2020 and 2021, the Carleton Bangkok is still brand new.
The first Carlton flagship hotel in the vibrant capital city of Bangkok features Thai-inspired design elements and artifacts. It has an award-winning hotel and Spa. It has received the best of 2022 award from the trip advisor as well as the Asia, pacific property award.
Services
Massage
Hand Massage
Warm Oil Massage
Thai Massage
Aromatherapy Oil Massage
Four hands Thai massage
Back & Shoulder Massage
Foot Massage
Four hands Thai massage
Special Massage
Dr.Spiller-10 Step Facial Soothing Massage
Other
Himalayan Salt Hall and Paraffin Treatment
Akasuri Japanese Body Scrub
Body scrub and body wrap
Aromatic Hot Stone Massage
Thai Herbal Steam
Floral bath
Onsen
Where to Find It?
491 Sukhumvit Rd, Khlong Toei Nuea, Watthana, Bangkok 10110, Thailand
Contact No: +662090788
Final Thoughts
Spa treatments and Thai massage are now renowned worldwide. There are good reasons for this. Many Asian nations offer a similar style of massage to Thai massage. In Cambodia, it is a Cambodian massage, in Lao, it is a Lao massage, etc. Thailand has managed to export "Thai massage" too much of the world, and Thai massage has become a staple of many high-end spas the world over. What better way to experience Thai massage than in a Spa in Bangkok, the heart of Thailand?
In this article, at the top of the list are some of the finest spas in the city's best hotels while independent spas are covered in another post. So do not forget to check out some of these when you visit Bangkok next time and find some inner peace.