Thailand is a hub of activity in South East Asia. It is easy to get to, and offers world-class medical service in a breathtaking location. Everything is top-notch from the service on arrival to the treatment you receive both inside the hospital and out.
The Thailand government has recognized the medical tourist as a special class of visa applicants and it is now possible to arrive and stay for up to a year with your friends/family. These are some of the many reasons to choose Thailand as your destination for Medical Tourism
Thailand is a safe destination – ranked 1st in Asia and 5th in the world by GHS
The Thai Government is actively seeking Medical Tourists
There is a special MT visa for Medical Tourists
Short Waiting times for most treatments
Costs are significantly lower than in the west
Hospitals are 5-star facilities
Thailand welcomes all faiths
Thailand Ranks 1st in Asia and 5th in the World in 2021 Global Health Security Index
Thailand ranks 5th out of 195 countries in the world for health security, behind the United States, Australia, Finland and Canada, and first in South East Asia. Here is the reference article from the Global Health Security Website.

Medical Tourist Visa (MT)

Thailand is actively seeking medical tourists with a Medical Tourist (MT) visa.
The MT visa allows for the person seeking treatment and up to 3 family members to attend. The MT visa is good for 90 days and may be extended for up to a year for treatments that will take longer than 90 days. These treatments include, anti-ageing and regenerative medical treatment, coronary artery disease, cancer, dental care, and cosmetic surgery.
Note: the 90 days for the MT visa time starts from when the visa is approved. Don't apply too early as your time will be running once the visa is issued.
World Class Medical Treatment


Thailands' hospitals are world-class. There are many excellent hospitals to choose from, with specialized clinics both inside and outside these hospitals. We have listed the Top 11 hospitals in Thailand for you.
The facilities here are definitely some of the best available and cater to all your needs.
For a complete listing of Hospitals in Thailand you can visit Thailand Medical News.
Recuperation can be short and enjoyed at one of the many resorts around the country.
We have outlined the Top 11 Hospitals in Thailand for you.
Short Waiting Times


Hospitals here are well organized and easy to navigate. They offer dedicated specialists to help you through the process of going to see a doctor. Having spent the last 23 years here I can truthfully say things proceed quickly once you have entered the hospital.
Normally you will see a doctor within 30 minutes from walking in the door. I have received an X-ray within 30 minutes, and an MRI within an hour of checking into the hospital.
I had rotator-cuff surgery within a week of checking on the problem, and it could have been done sooner if I had been able to take the time to get it done right away..
Costs are significantly lower in Thailand
The average cost for hospital treatment varies, but can be estimated to be approximately 30% lower than Europe and up to 70% lower than the US.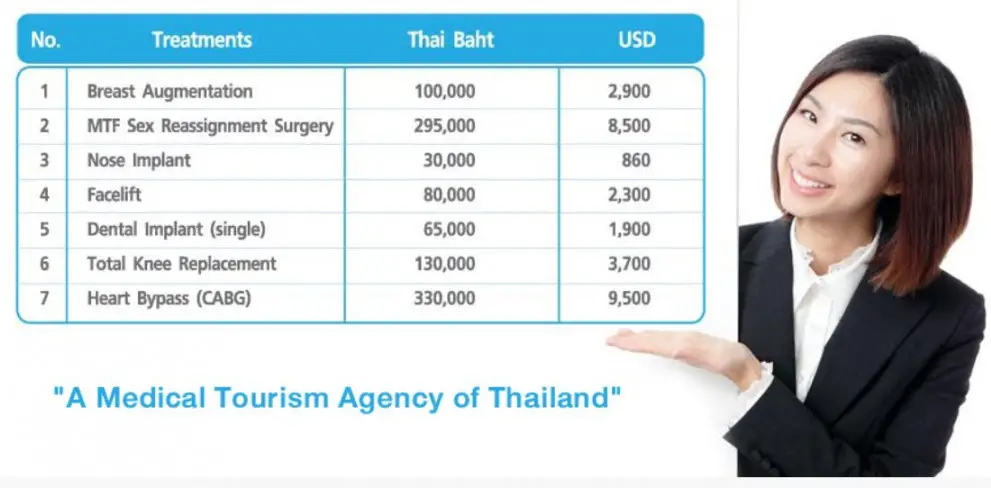 Doctors in Thailand post the above chart for medical costs. Click for Link.
With significant savings on your treatment, you can enjoy you time in Thailand, knowing that follow-up care is close by.
Hospitals that resemble 5 star hotels


Forget what you know of utilitarian hospitals. The hospitals here are set up to resemble 5-star hotels.
From the moment the door is opened and you enter the lobby to the moment you check out everything is handled for you. You will be greeted and lead to the desk with many locations offering specialist helpers/translators, checking in here is different from the hospital of your nightmares.
They have hospital suites for you and your family. Everything is handled for you. The experience is surprising if you are used to national health care.
Here is a sample of what is available Bumrungrad, and Bangkok Hospital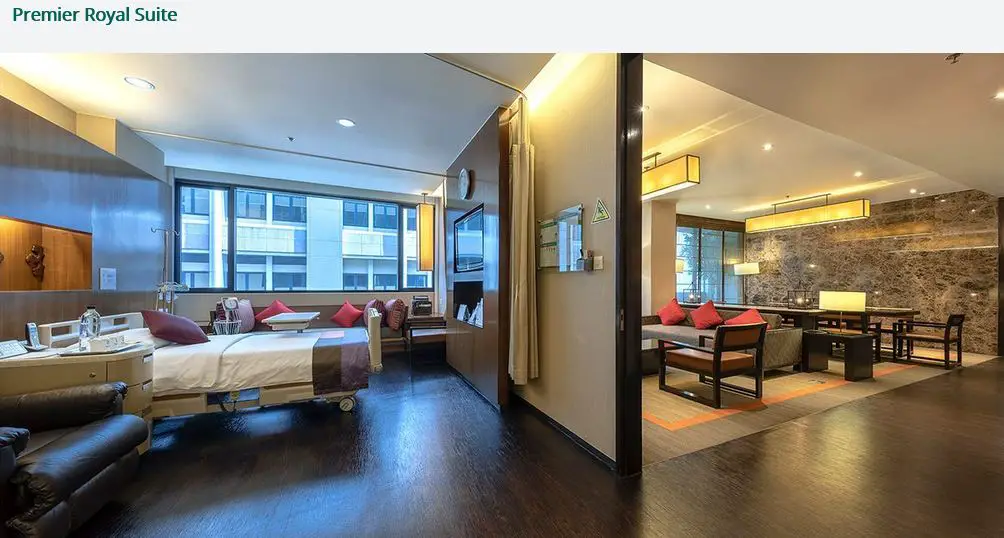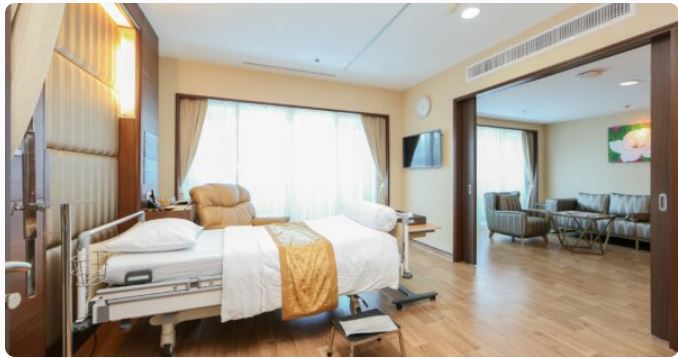 Thailand welcomes all faiths


Thailand welcomes everybody, from anywhere on earth. Pre Covid Thailand was welcoming over 40 million tourists a year. With those numbers coming back each year Thailand has to be doing something right. No matter where you are from you will feel welcome in Thailand.
Thailand is predominantly Buddhist, at ~95% of the population. But all faiths are welcome in Thailand.
The Land of Smiles
Thailand is known as the Land of Smiles and the reputation is well-deserved. People do smile a lot here and they have infectious smiles. When you see someone smiling at you want to smile back. What could be better than that to make you feel better.
Conclusion
Any medical decision should be well-thought-out and planned accordingly. Thailand is set up to take care of your medical needs. From the government leading the way with special visas to providing one of the safest places to visit, Thailand is a good place to see medical treatment.
Family members can accompany you while you are treated and the hospital rooms are well appointed and relaxing.
They offer world-class facilities and staff with numerous hospitals and packages to choose from. Waiting times are short, and costs are significantly lower than treatments elsewhere. Recuperate at one of the world-famous beach resorts after your treatment.
Everyone is welcome in Thailand the land of smiles.