Chiang Mai is the gateway to Northern Thailand and the Golden Triangle. As the former seat of the Lana Kingdom of Thailand it is a culturally significant location. Chiang Mai has great mountain scenery and because it is further north and slightly elevated it enjoys great weather. As of 2020 Chiang Mai was the 4th most populous city in Thailand with over 174,000 souls, after Bangkok, Nonthaburi and Nakhon Ratchasima. But, those are just numbers, the majority of people feel Chiang Mai is Thailand second city and they would not be wrong.
A vast number of Ex-pats settle in Chiang Mai for the scenery, the weather and the excellen healthcare that is available there.
Chiang Mai has 7 major hospitals and numerous clinics available to serve the community. In addition, the Siriphat Medical Center at the Faculty of Medicine , Chiang Mai University provides super-tertiary medical care for patients in Chiang Mai and 16 other provinces in the Northern region of Thailand.
Sriphat Medical Center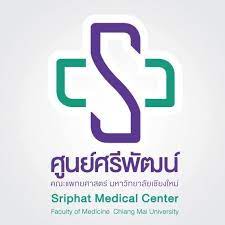 Sriphat Medical Center is part of the Faculty of Medicine at the University of Chiang Mai. It is a government hospital, but as part of the University it offers some of the best and fastest response times in the area. Established in 1997 Sriphat is a relatively new facility, it is located in the Sriphat Building on the Maharaj Nakorn Chiang Mai Hospital ground.
It is very popular with Thai nationals and expats. It offers superlative care at reasonable prices. There are over 200 doctors, specialists and consultants available to see patients. It offers 24 hour service and 171 in-patient beds, and 69 intensive care beds, 92 sub ICU beds and 28 operating rooms.
The hospital is well known for hospitality and was recommended for the 15th ASEAN University Games in 2010.
Some of the specialized treatment centers are: GI center, stroke center, heart center, CCU and ICU with non-laminar flow system and positive pressure control.
With such a large facility and staff you can be expected to be treated in minutes of your arrival, unlike many other government hospitals around the nation.
Bangkok Hospital Chiang Mai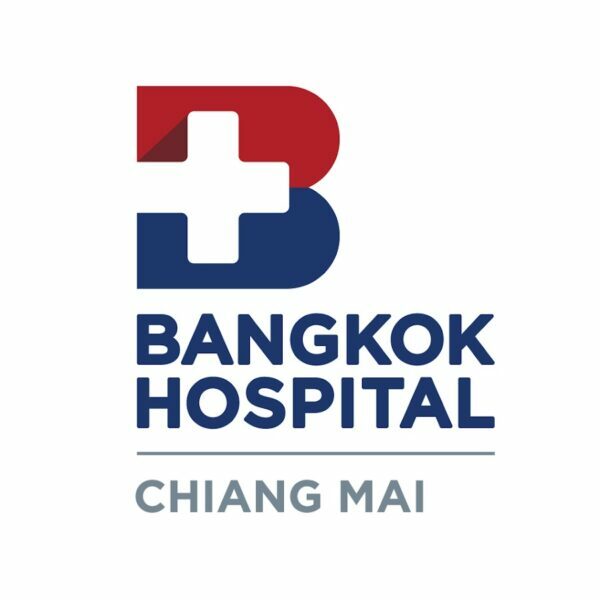 Bangkok Hospital Chiang Mai is part of the BDSM group of health care properties and also part of the Bangkok Hospital chain of hospitals with over 49 facilities and 8000 beds nation wide. They are part of the largest privately owned hospital group in Southeast Asia. It is a JCI certified hospital with high standards of care.
This hospital opened in 2014 with 122 in-patient beds and 21 clinics and centers of excellence for patient care. Like all Bangkok Hospital centers the staff and care received is excellent. The cost of care is among the most expensive that you will see in Thailand, but you will receive impeccable treatment.
Many of the staff are bilingual (virtually all of the doctors) and are only too happy to help you.
Chiangmai Ram Hospital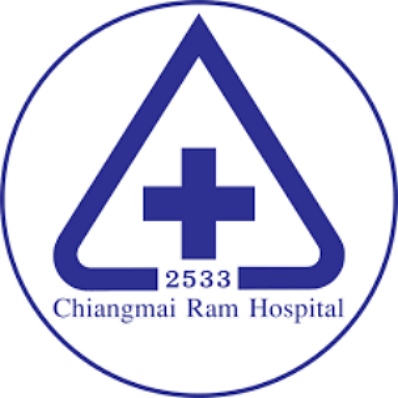 The Chiangmai Ram Hospital opened its doors in 1993. It is a private group of hospitals and has been called the best hospital group in Chiang Mai. It is a JCI certified hospital and offers a high standard of care, with nice accommodation.
Chiangmai RAm Hospital is part of the Ramkamheng group of hospitals and is well respected by Thais and expats for providing superlative care. It has superior standards and state of the art facilities.
The rooms are hotel-like and it seems you stay there while you are fed and treated. As such the cost of treatment at Chiangmai Ram is higher than most other Chiang Mai hospitals. But if price is no object and you want the best then this is the hospital for you.
The doctors and staff all speak English. with many other languages available on request.
McCormick Hospital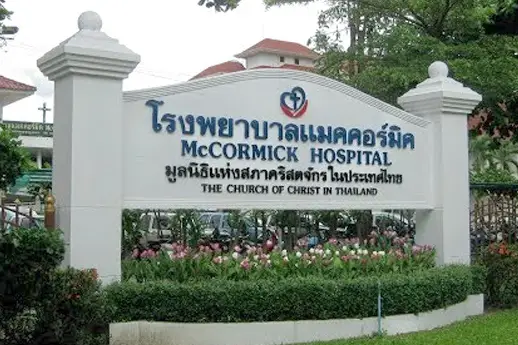 McCormick is one of the older private hospitals in the area. Established in 1888 by Presbyterian missionaries to Thailand. (one can only wonder what they thought of the Kingdom of Siam), it is recognized as one of the best hospitals in Chiang Mai. It has a good reputation for providing great medical care and concern for the community.
McCormick is a modern general hospital with 350 in-patient beds and many specialty clinics available. The services available at this hospital are comprehensive and personalized. The nurses here are trained at the hospital in association with a B.S. nursing degree program at Payap University.
With a 24-hour emergency facility and fluent English staff members, McCormick is the hospital of choice for many expats.
Lanna Hospital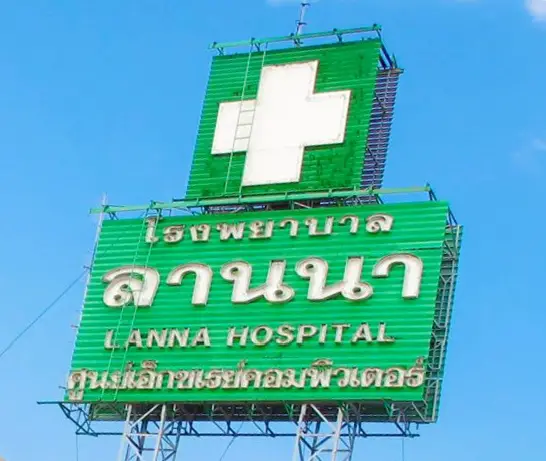 Lanna Hospital is widely preferred private hospital in the Chiang Mai area. It offers the same services as Chiang Mai Ram and Bangkok Hospital at a much preferred price point. It is known for its outstanding service and care.
Lanna Hospital was founded in 1974 by a group of doctors from Chiang Mai University and business people from the community, Lanna Hospital has 180 in-patient beds and procides specialized care. The cardiology and back pain center have a good reputation throughout northern Thailand.
English speaking staff are on-site and Japanese, Mandarin and other languages are available. The emergency ward is open 24-hours a day and ambulances are always ready to serve the community. They offer an air-lift facility for specialized critical care patients, if required.
Rajavej Hospital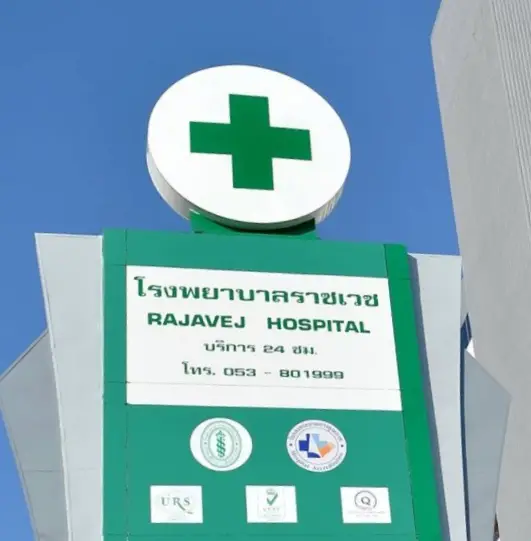 Rajavej hospital was established in 1997, it is a 150 bed hospital that offers 24 hour service to the community. There are over 40 physicians on staff, plus specialists and consultants.
Rajavej Hopsital is a private hospital that is medium priced as far as hospitals in Chiang Mai go. It is opposite the Holiday Inn on the Ping River.
The hospital has over 20 specialty services and departments, such as surgery, internal medicine, gynecology, dermatology, radiology and pediatrics.
They have up to date facilities and state of the art diagnostic facilities. The hospital rooms are well equipped and most doctors speak fluent English.
Chiang Mai Neurological Hospital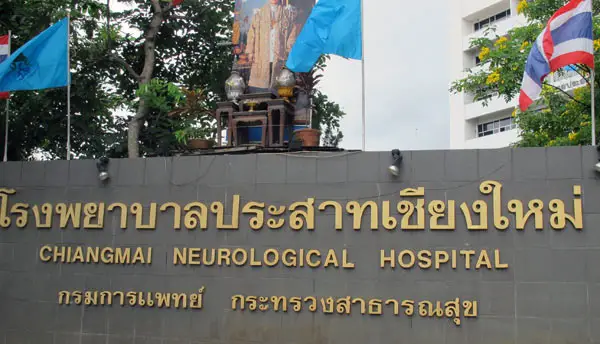 This is a public Hospital that has the reputation of being one of the best Neurological Hospitals in Thailand. They have an excellent record of treating patients with neurological disorders, especially strokes.
The hospital has 240 in-patient beds available to treat patients. Patients are often referred here from other hospitals in the area. It is one of the leading research centers in Thailand, with students interning here to understand the brain.
Other Hospitals
Chiang Mai is a beautiful place to visit and live with a large number of private and public health care facilities. You can be assured of quality care when you are in Chiang Mai.
There are many other hospitals in the Chiang Mai area notably Maharaj Hospital, Central Chiang Mai Memorial Hospital, Klaimor Hospital, Nakornping Hospital, Hang Dong and San Kamphaeng Hospital.