January 20th, 2022, the CCSA (The Center for Covid-19 Situation Administration) met regarding the current Covid-19 situation in Thailand with the idea to relax the rules and facilitate greater tourism. They have announced that Test and Go is returning in February 2022, for vaccinated and insured international travelers, under the Thailand Pass App.
CCSA Meeting Highlights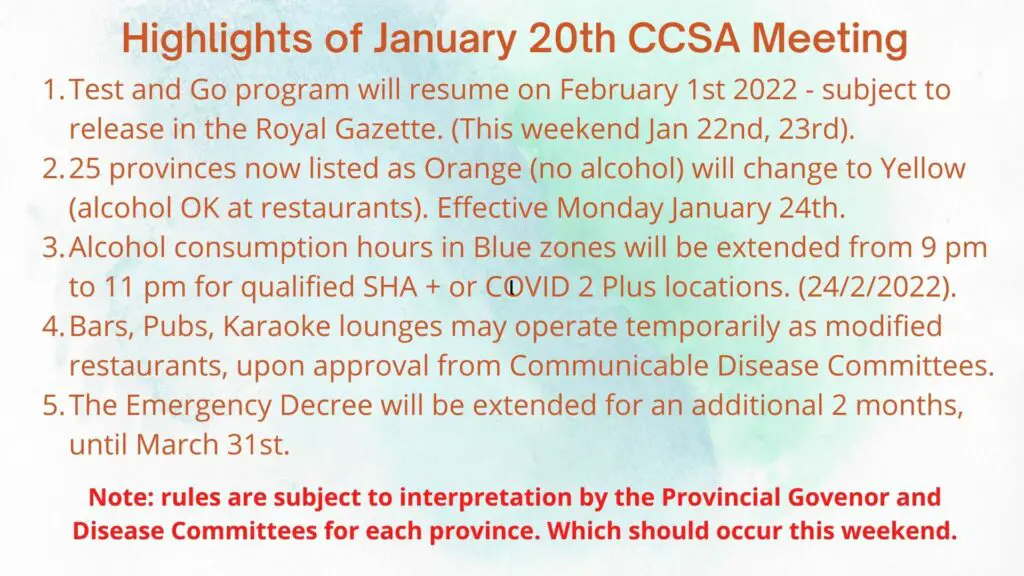 Test and Go Program
Test and Go has changed slightly.
Due to some tourists refusing to wait around for their test results on Day 5, the CCSA has mandated that a RT-PCR test will be required on Day 1 a self-administered ATK test on Day 5 for visitors entering Thailand under the Test and Go scheme.
This policy has met with much concern on social media and the government has stated that due to the concerns stated above (people running when their day 5 test came back positive) the regulation will stay for now. They have also stated that this need not be permanent and will be under review.
My guess is this will prevent many travelers from booking just now and they will adopt a wait and see attitude. The cost is not insignificant, so why not wait?
Travelers are required to stay in the SHA plus hotel locations. Note: you can change your SHA plus hotel location between Day 1 and Day 5, but you must pre-book and pay for these hotels, and the RT-PCR tests that will be done there. – Gone as of March 1st bookings.
If you have a positive RT-PCR then you will be invited to stay at an approved ASQ hotel for 7 to 10 days until you have recovered.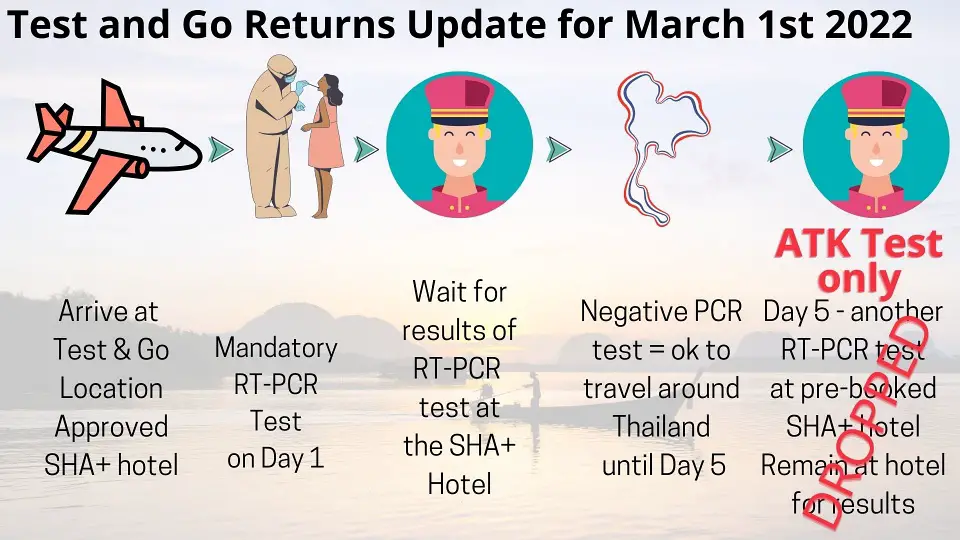 The Details
From January 24th approved (SHA + or Thai Stop COVID-19 2 Plus) restaurants in the BLUE (Business, Leisure, Ultimate Experience) locations will be allowed to serve alcohol until 11 pm.
They must continue to follow all Covid-19 guidelines and social distancing. This is expected to be approved by the provincial governor, this weekend.
Entertainment locations (bars, pubs, karaoke venues, may be opened as temporary restaurants upon approval from the Bangkok/Provincial Communicable Disease Committees.
The pubs and bars etc. have not been allowed to re-open permanently just yet, as the CCSA feels these businesses pose a very high risk for transmission of Covid-19. As the situation improves, provincial governors may allow relaxation of these rules in conjunction with CCSA guidelines.
The Emergency has been extended until March 31st to facilitate handing of the Covid-19 situation.
Test and Go
The Test and Go under the Thailand Pass App is expected to re-open on February 1st, once it has been released as a law in the Royal Gazette, making it official. There will be more specific guidelines available at that time.
You cannot book before February 1st 2022. You will need to follow all previous guidelines for Test and Go programs and comply with with the RT-PCR tests on Day 1 and Day 5.
You must stay at the SHA plus hotel while you wait for your RT-PCR test results. The hotels and the RT-PCR tests must be paid for in advance.
Sandboxes
For travelers interested in Sandbox locations the following locations have been added to the Sandbox program.
Note: the additional locations will need to be published in the Royal Gazette and be effective February 1st, 2022.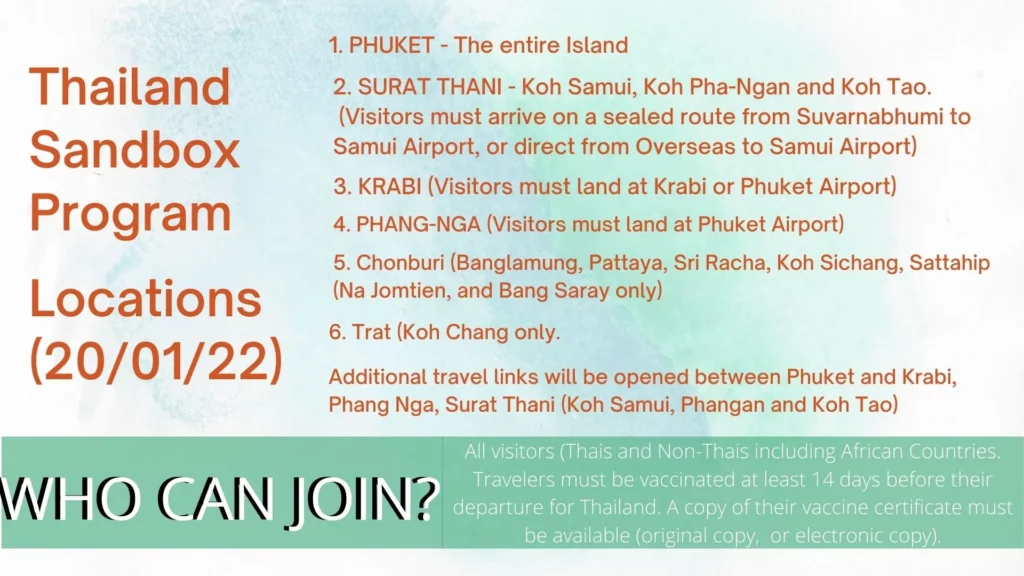 Sandbox locations have been added to Chonburi (Banglamung, Pattaya, Sri Racha, Koh Sichang and Sattahip (Na Jomtien and Bang Saray only)). Trat (Koh Chang) only.
There will be additional travel links made available between Phuket and Krabi, Phang Nga, and Surat Thani (Koh Samui, Phangan and Koh Tao).
Note: the only difference between Test and Go and a Sandbox is that you must stay at your sandbox hotel for the entire 7 day sandbox experience.
Additional Notes
High risk contacts will only be quarantined for 7 days (previously 14 days). They will be required to have several negative RT-PCR on day 5/6 and after being released, day 10.
A high risk contact has been clarified, (sort of) – A high risk close contact is one where the person has been in close proximity with a positive case at the onset of the illness, or 2 to 3 days before the onset of symptoms of the illness, or in a closed place with a positive case, for more than 30 minutes. Also not wearing a mask during close contact with a positive case, is considered high-risk.
Thailand has designated 25 provinces as Yellow that were Orange before, 8 provinces are Blue and the remaining 44 provinces are still classified as Orange.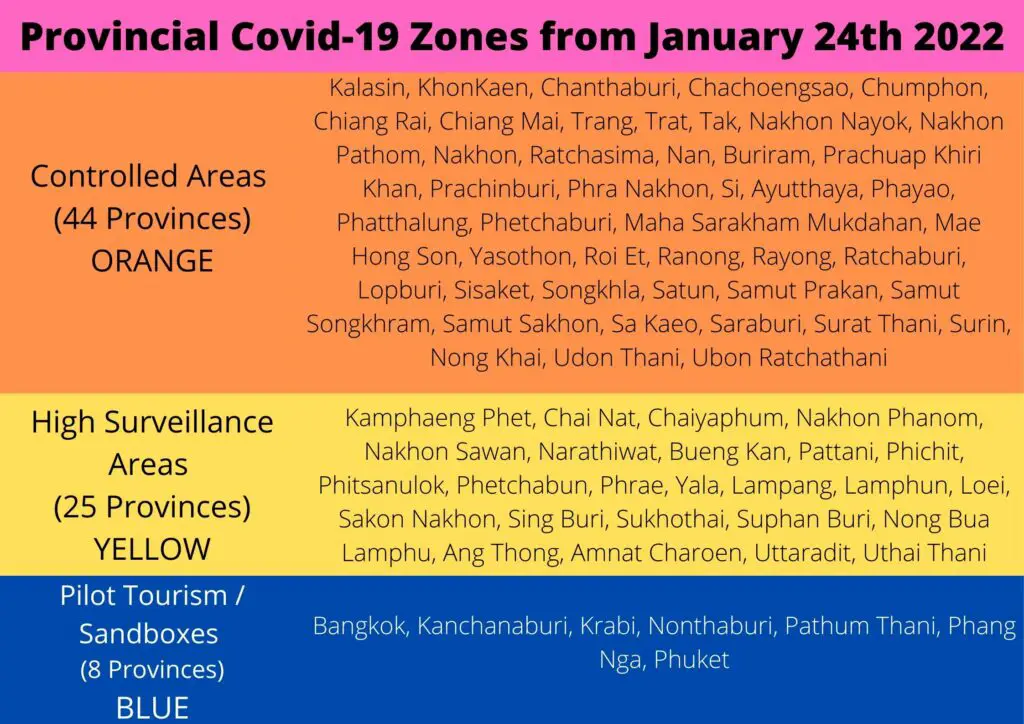 Thailand is endeavoring to open up the country for tourism in light of the majority of cases being reported are the Omicron variant, and are not seen as a severe burden on the healthcare system. Everyone is welcome to the Land of Smiles once again.