Origene Clinic Jomtien specializes in taking care of people. They have been part of the Pattaya family for a few years now, originally located in the Little Walk complex next to Sukhumvit, road, Origene moved to Jomtien a couple of years ago.
Origene Clinic is a center for beauty, aesthetics, and surgery in the region. They provide beauty, skincare, and health services to foreigners and Thai people with their team of medical professionals. They are licensed and certified, so you can be confident when choosing them to perform any procedure for you.
Address – 44/287 Moo 12, NongPrue, Banglamung, Chonburi, Thailand, 20150
Open every day (including Sundays) from 10:00 to 19:00
For anyone who is driving, I offer the following directions:
Travel to Pattaya, Via either highway; and once on Sukhumvit road in Pattaya/Jomtien, travel to Thepprasit Road. Take Thepprasit all the way down to the end, where there is a red light at the intersection of Thappraya road. Turn left towards Jomtien Beach. At the next red light – go straight. Do not turn to Jomtien beach. Continue straight on for ~650 m Origene Clinic is on your left, next to Q Sauna.
Origene Clinic has been in the Pattaya area for several years now and has gained a stellar reputation. Originally, they were in the Little Walk Complex on Sukhumvit Road. Approximately 2 years ago Origine Clinic moved to its current location on Jomtien second road.
Origene provides many services to its customers. Chief among them are:
Aesthetics
 Health Beauty and Laser Centre. They offer some of the world's most advanced aesthetic treatments, along with cutting-edge procedures, such as:
Botox
Dermal fillers
Thread lifts
Laser treatments
Plastic Surgery
Dr. Lee from Seoul Korea is famous for his work on the Korean Reality TV show "Let Me In." Let Me In is a Korean makeover show. As many people will know, South Korea is one of the pre-eminent locations in the world of beauty treatments.
Origene Clinic specializes in many different types of plastic surgery, such as:
Chin Surgery
Facelifts
Nose surgery
Eyelid surgery
Lip surgery
Medical Marijuana
Yes, Origene clinic also specializes in medical marijuana. They have specialized in medical marijuana since they were at the Little Walk location.
They can assist with.
Cannabis prescription
Effective usage
Warnings and precautions
Medical certificates
The use of marijuana in the Kingdom of Thailand is currently restricted to medical use only. Many (and I do mean many) marijuana locations have sprung up in the last year in Thailand and I would venture to say over 90% of them are not offering what the government considers medical marijuana.
Smoking marijuana is still illegal here in Thailand, however, locations selling weed to smoke are everywhere.
Red Ginseng – Cheong Kwan Jang Ginseng
Cheong Kwan Jang Ginseng is offered at the Origene clinic. With over 120 years of manufacturing experience and quality control. Cheong Kwan Ginseng is the world's number-one brand of Red Ginseng.
It is grown to a mature age of 6 years before being harvested. Soil quality and daily maintenance of the roots make CKJ Ginseng some of the best in the world.
Extensive testing and quality control ensure that only the best roots are used to make Cheong Kwan Jang Ginseng in government-certified factories.
Origene Clinic Jomtien specializes in taking care of people
A friend of mine recently had some work at the Origene clinic and this is what she had to say about the experience.
I am a 66 year old Canadian women with sagging eye lids. While vacationing in Thailand I decided to call the Origene Clinic in Pattaya to see if I could get upper hood surgery performed in such short notice.

I was delighted to find out that one of the two Drs. was available. Within two days I had a 1-hour consultation which included filling out forms regarding my medical history, allergies, etc. Three days later I went back to the clinic where my weight and blood pressure was taken.

I was escorted into a waiting area where I washed my face, put on a robe, and hair net to get ready for surgery. I was then escorted to a beautiful very hygienic OR with such caring and friendly nurses, I felt so comfortable and relaxed.

English was very well spoken. The procedure took approximately 1 hour.

The only pain I felt was when the deadening was being put in but that is expected in any medical procedure.

I was given antibiotics and pain medication before leaving with lots of instructions on how to care for my new wounds. I was expecting some pain but was pleasantly surprised that I only had a little discomfort for about 12 hours.

Applying ice is definitely recommended but I still looked like I was hit by a bus for about 5 days. Luckily Thailand is such a beautiful sunny place that I was able to wear my shades and enjoy my vacation without any problems.  

Six days later my stitches were removed and I was left with beautiful natural looking eyelid's. The cost of my procedure was 15,000 Baht. I highly recommend this clinic to anyone who is looking for cosmetic surgery. The extensive list of procedures is listed on their website.

Personal experience at Origene Clinic in February 2023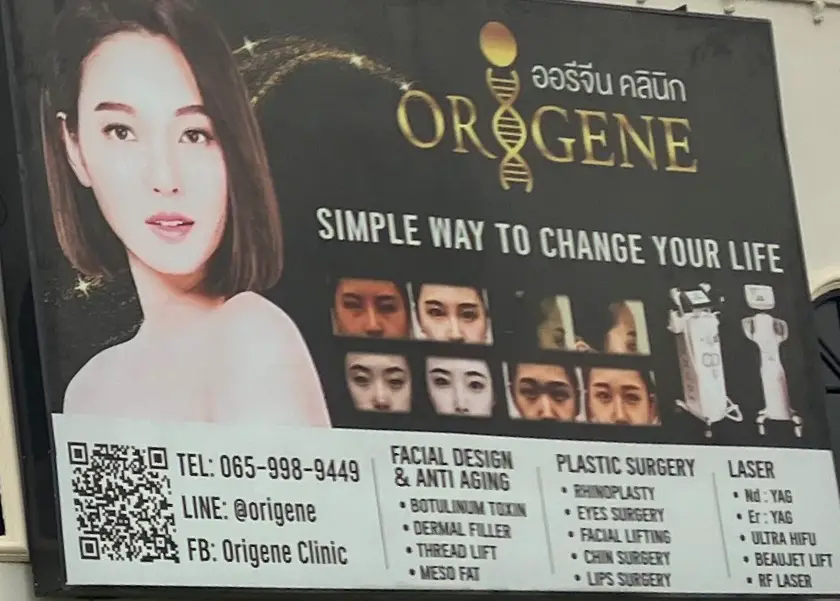 In Conclusion
I visited with my friend a couple of days after she had the surgery and she was fine, she did look a bit like she had been hit by a bus, but she was not experiencing any discomfort from the surgery and we had a good visit. She had the work above done as an outpatient procedure and experienced no side effects. Origene Clinic was efficient and provided exemplary service to her.
Based on her experience I have no hesitation in saying good things about Origene clinic. They treated her very well and she is happy with the results. She was able to have the procedure quickly and effortlessly while on vacation in Thailand.
If you are looking to improve your appearance, Origene clinic is a good place to visit and speak to their highly trained and qualified staff.
For additional information on skincare clinics – The Top 10 skincare clinics in Thailand.