What are the Top 10 reasons to choose Thailand for Medical Treatment? 1. Combine a holiday with your treatment, 2. the hospitals here offer a higher standard of care, 3. there are lower costs, 4. some of the best doctors in their fields, and 5. short waiting times. 6, Experience luxury while being treated, 7. Thailand is a regional medical hub, with 8. easy entry for medical procedures (special medical visa), and 9. faster recovery due to a stress-free environment with 10. a wide range of services available.
Thailand is a popular Southeast Asian tourist destination, pre-pandemic over 40 million tourists every year, visited Thailand. Many of those tourists combined a medical procedure with their visit. Top-notch medical facilities, medical professionals from around the world, and a dedicated visa for medical procedures make Thailand a smart choice for people who are looking to combine travel with medical procedures.
Thailand is recognized as a reliable medical tourism destination. Thailand's healthcare system has been ranked 47th by the World Health Organization, as well as recognized by the US consular information sheet. While this is admirable, it is in the private healthcare niche that Thailand shines.
Asia has topped the charts in gaining medical tourism attraction, while Thailand has become one of the largest medical tourism destinations in the world. Almost three million medical tourists are visiting Thailand every year, generating a huge revenue of $3.73 billion.
Medical tourism: what is it?
Medical tourism, or travel for medical procedures, has become a lucrative tourist attraction worldwide. According to the World Travel & Tourism Council, it contributed 9 percent to the global GDP and provided 255 million jobs in 2011. The numbers have been climbing since then.
Global news wire reports that the global medical tourism market was worth USD 15.5 billion in 2017 and will grow to USD 28.0 billion by 2024, or approximately 8.8% per annum.
There are three main categories of medical tourism:
General health care – knee or hip replacements
Cosmetic – face lifts, tummy tucks
Dental. – root canals, cosmetic implants
Cosmetic surgery has become the most popular and widely preferred reason for medical travel since the advent of medical tourism. Dental care is another type including cosmetic implants, as well as travel for general health care, such as spinal surgery, ophthalmologic procedures, eye surgery, organ transplants, and knee or hip replacements.
Tourists from western countries preferred medical tourism as it costs less than similar treatments in their home countries. Often the cost of travel to Asia is more than offset by the reduction in price for a procedure done while away.
Let us discuss some of the most important reasons why Asian countries, particularly Thailand, is the most popular medical tourism destination.
Make the most of your holiday by adding a treatment
Compared to western countries such as the US, routine procedures like health check-ups, colonoscopies, and physical therapy are dramatically cheaper. Furthermore, simple procedures can be performed with an Out-Patient visit, so you can continue to enjoy the rest of your vacation. Having trouble with your teeth? Thailand has state-of-the-art dental facilities available at prices that are a fraction of the cost at home. Simply stop into one of the many clinics available, that we have outlined here.
A higher standard of care
The first hospital in Asia to receive Joint Commission International (JCI) accreditation is located in Thailand. Bumrungrad hospital in Bangkok has led the way for accreditation and medical tourism for years in Thailand. While it is one of the most expensive choices available in the Kingdom, its expertise is undeniable.
A total of 55 Thai organizations have been accredited by JCI, as well as other certifications for their specialty treatment programs. There are many more hospitals that are ISO certified too, and although this is not a type of accreditation, it still provides an insight into the quality of the management and consistency in service delivery.
The international experience of many physicians allows them to provide you with the latest and safest techniques available worldwide; in addition, many of them are certified in other countries as well as Thailand (for example, the US, Japan, UK, Australia, and Germany) for the same reason they also do speak English (or other foreign languages), in addition, translation services are available at all major hospitals to avoid any language barrier issue.
Budget-friendly
Affordability is an important factor in medical tourism. Combining a vacation with a medical procedure with your vacation for the same or less cost in your home country is a powerful motive to travel. Compared to Australia and the United States, Thailand offers medical processes and treatments at about 40-70 percent less cost.
Massive numbers of medical tourists flock here because of the country's affordable medical treatments. Medical technology and facilities here are equal to anything in the West. The cost of labor is what keeps the prices down. A cheaper price does not necessarily mean lesser quality, given the growing global awareness of healthcare.
In this case, we compare the cost of different procedures between Australia and Thailand.
In Australia, knee/hip replacement procedures cost $25 thousand while in Thailand, they cost $12 thousand.
When you go to the dentist in Australia for a filling, you will be charged $200, whereas, in Thailand, you will be charged $30.
Thailand only charges $4 thousand for a facelift, while Australia charges $10 thousand.
A cheaper cost, no waitlist, and better technology and facilities have changed the landscape of medical tourism.
The best doctors in the field
Medical professionals, surgeons, doctors, physicians, and paramedical staff have access to advanced medical technology and training that is internationally accepted. As a result of the high level of medical tourism, Thailand offers the latest and safest procedures performed only by licensed and accredited medical professionals. The majority of medical professionals are qualified by medical associations in the United States and/or more than two countries. Professionalism in Thailand is overseen by the Medical Council, which is equivalent to the American Medical Association.
Short waiting time
Despite extensive surgery, waiting times are short. The system here is very professional and like all professionals, they recognize that people do not like waiting for hours to get things done. Staff numbers are high at all major hospitals and clinics to ensure you are not kept waiting.
Many countries have notoriously long waiting times, with simple procedures like an MRI scan sometimes taking a month or more to arrange. I have personally had X-Rays within minutes of being seen in an Emergency Room. I had an MRI the following day after it was recommended. I had LASIK surgery back in 1998 and after 2 different checkups to ensure my eyes were stable and everything was OK, I was asked if I wanted to do the surgery the following day, or the next week. I chose the next day.
In Thailand, physical examinations can be done on the same day as admission to the hospital, and surgery can be completed in as little as three days. Coming from overseas your medical records and details would have to be sent in advance, but if speed is important, Thailand is an excellent choice.
Experience luxury
Forget about dull hospitals with strip lights and overpowering bleach smells. Private hospitals here are a business and like any business, they cater to their customers. There are grand chandeliers in the entrance foyers, restaurants, and sometimes even live pianists performing in Bangkok hospitals, as if they were luxury hotels. Indeed, there are choices of rooms available the same as if you were checking into a hotel, would you prefer the Delux room or the suite?
The experience aids in calming any anxieties patients may be experiencing and makes visiting loved ones a far more pleasant experience. Families are encouraged to stay with their loved ones and there is plenty of room to do so. Most private rooms come with an ensuite bathroom and a seating area, mini fridge, kettle, etc.
It's a regional hub
Thailand is one of four regional medical tourism hubs in Asia, along with Singapore, Malaysia, and India. Due to Thailand's high popularity of cosmetic surgery, medical professionals are able to provide remarkable cosmetic procedures at an affordable price. Thailand has actively been pursuing medical tourists for many years now and the government and hospitals have grand plans to continue this trend.
Malaysia and South Korea are examples of countries where government support has enabled medical tourism to thrive, while India has shown little interest in the sector. There are 30 healthcare organizations in Thailand that are accredited by the US-based Joint Commission International, which is an elite evaluator of the quality and safety of healthcare around the world.
Entry into the country is easy
Thailand has special MEdical Tourist (MT) visas. If less than 60 days are needed for treatment, then you can enter as a tourist under a standard tourist visa.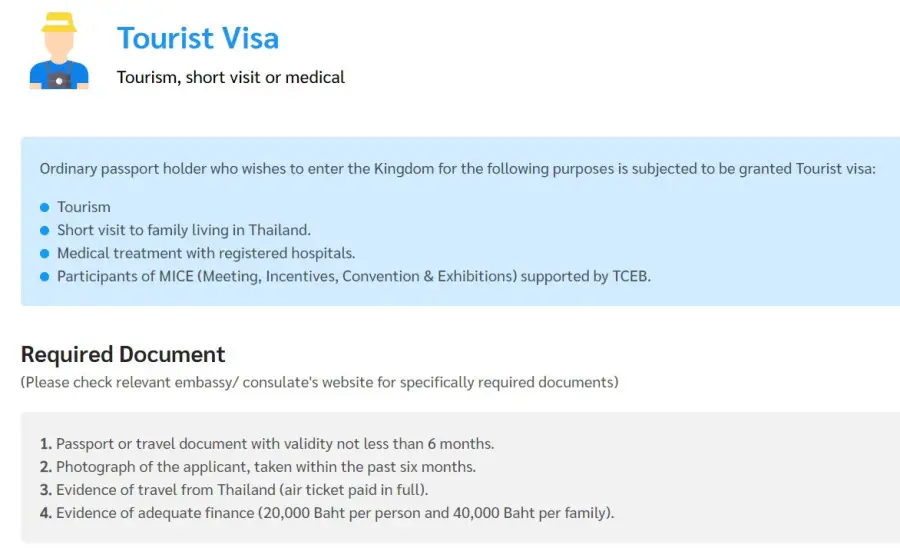 If more than 60 days are required for treatment then a special MT visa is required. Medical Tourist Visas are not difficult to get and it can be done online.
To check out the officical Thailand eVisa Website click here.

Up to 3 extra family members are also able to enter the country under the medical visa of the recipient.
A faster recovery
There are many factors that influence the recovery process and can speed it up and improve it. Not only will you receive incredibly high-quality care in Thailand, but you'll also receive some of the best nurse-to-patient ratios and doctor-to-patient ratios, recovery rooms, and customer service as good as a five-star hotel.
Many other factors will reduce your stress level preoperatively and postoperatively. Furthermore, after discharge, you will continue recovering at one of the many beautiful hotels or resorts in Thailand and will be able to experience the natural beauty of the country. A medical holiday is certainly better than recovering at home, with the burden of daily home chores to continue with, hence the term "medical holiday" that sometimes describes medical tourism in Thailand.
Bumrungrad hospital in Bangkok has a dedicated page on their website for hotels close by for family members who want to stay close by, but not in the room with the patient.
A wide range of services/facilities
Many private clinics and hospitals in Thailand are equipped with innovative equipment and, procedures making it easy to receive highly skilled medical care over a wide range of specialties in one location. This makes it possible to undergo several procedures without traveling from country to country. The Thai quality of treatment is above average and generally excellent. This ease of operation along with the facilities available makes Thailand a destination of choice for medical tourism.
Most countries offer specialty medical treatment to medical tourists, but they typically focus on a particular niche and are usually limited to plastic surgery (like Turkey for hair transplants, Eastern Europe for dental treatment, and South America for cosmetic surgery). Thailand has more varied treatments available in one location. As of 2020, there are over 370 private hospitals available in Thailand, 116 in Bangkok, and 354 outside of Bangkok. For a total of over 36,000 hospital beds available for treatment.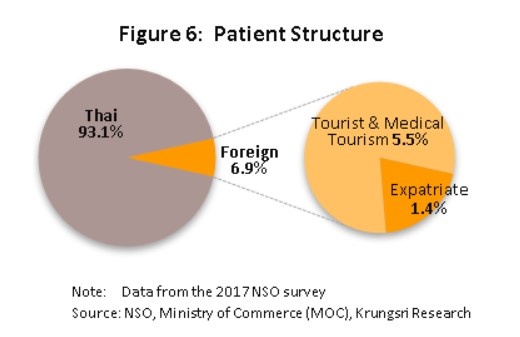 In 2016 (data) private hospitals in Thailand treated 61.6 million patients. Of those 6.9% were foreigners. Of the 6.9% , 1.4% were Expatriates living in Thailand and the remaining 5.5% were tourists or 3.39 million people.
Large hospitals (>249 beds) make up 22% of the 370 private facilities available. Although this is only 6% of the total number of private hospitals, combined these 220 hospitals have 7162 beds or 19% of the available capacity.
Indeed Thailand is developing a new Medical City in conjunction with Thammasat University in Chonburi's Eastern Economic Corridor. The plan is for a 600-bed hospital (300 Phase 1 and 300 Phase 2), along with an academic center, dedicated health care for the elderly, and high-tech medical research facilities. The ground has already been broken in building the first phase of the hospital.
Final words
The number of medical tourists coming to Thailand has been increasing for several reasons. It has affordable medical costs and high-quality healthcare services, a world-renowned and highly developed tourism infrastructure, and a global reputation for providing attentive and world-class service. Thailand medical services recognize that this industry is still growing and that many more people will be traveling for medical procedures.
Many tourists will want combine their holidays with a medical/dental procedure. Hospitals and clinics make combining your holiday with treatment easy. Ther are minimal wait times and there are interpreters on hand to assist everyone. The quality of service available, along with the ease of accomplishing everything you want is what keeps people coming back to Thailand.