Thailand is an amazing place, full of temples beaches, and nightlife, pre-pandemic over 40 million people visited every year. Many of those people would get sick, from broken bones and upset tummies to sexually transmitted unmentionables. Hey, it happens. When on vacation people tend to let go and do things that they might not do when at home. They let down their guard and have fun. Where to go when sick in Thailand will ease those fears and let you get on with your vacation and or the planning of one.
Quick Fix – The Pharmacy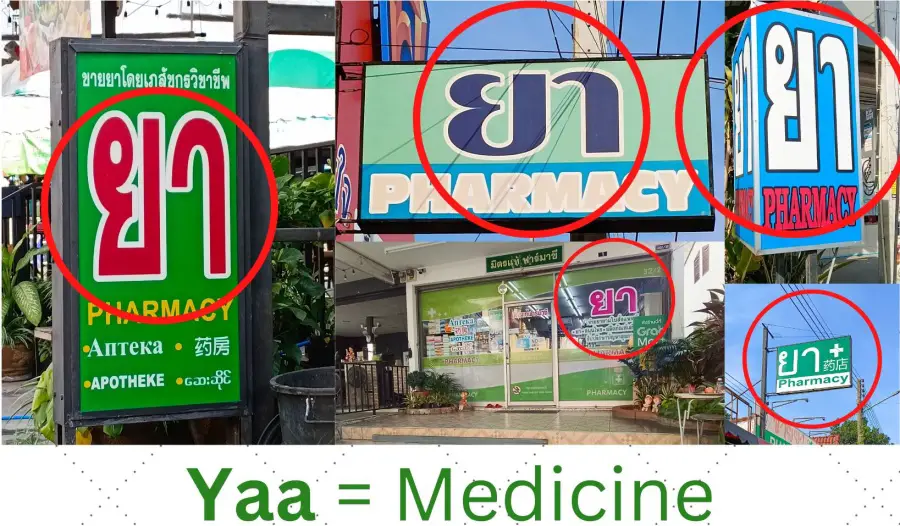 The Pharmacy
Where you can get all the basics.
Band-aids, gauze, medicine, ointments, creams, and pills.
The First thing you want to know is where to get the basics. Band-aids, gauze, betadine, ointments, creams, and pills. Head to the closest pharmacy.
They are everywhere.
Raan Kai Yaa – Literally Store sell medicine
They are easily recognizable by the green cross and the Thai word for medicine (Yaa). Pharmacies are everywhere in Thailand, from side streets to shopping malls. Also, most of the major department stores (Lotus and Big C) will have a pharmacy tucked into their building for ease of access.
Note: pharmacies here are not like the big pharmacies of the West. They are smaller and only really sell medicines, headache, and cold remedies along with support bandages, etc. Fascino is a larger pharmacy, but even they do not branch out into groceries, electronics, etc that you see in a Lawton's, or Walgreens pharmacy. 
Not many pharmacists will speak English, especially in the smaller street locations. Boots and Watsons both have locations throughout the major population centers of Thailand, and you are welcome to go to them. The pharmacists at Boots and Watsons will definitely speak some English. But in reality, there is a local pharmacy on many street corners of the Kingdom.
Here is a list of basic body parts that you can use to help describe your problem to the pharmacy or doctor at the clinic.
Yaa – is the Thai word for medicine. Jeb – is the Thai word for pain. I have listed some common body parts and the phonetic way to say them. Just like I have written them. Yaa is pronounced like Na, na na – you can't catch me. But with a Y – Yaa.
For help with pronouncing these Thai words – go here.
Jeb = pain or hurt – you can use jeb in front of all of the words listed below for body parts.
Hua = head – hu, as in hula hoop
Jeb hua = headache
Caw = throat – caw, just like a crow caw, caw
Jeb caw = throat hurts
Hoo = ear
Taa = eye
Kaa = leg
Tau = foot
Kaan = arm
Muu = hand
Tong = stomach
Tong sia (see-a) = diarrhea
Toot = backside
band-aid = pasteur – yep just like Louis Pasteur
Going to the pharmacy and saying any of these words along with "Jeb" will give the pharmacist a general idea of where the hurt is. Of course, you can always point to the affected area as well.
The common cold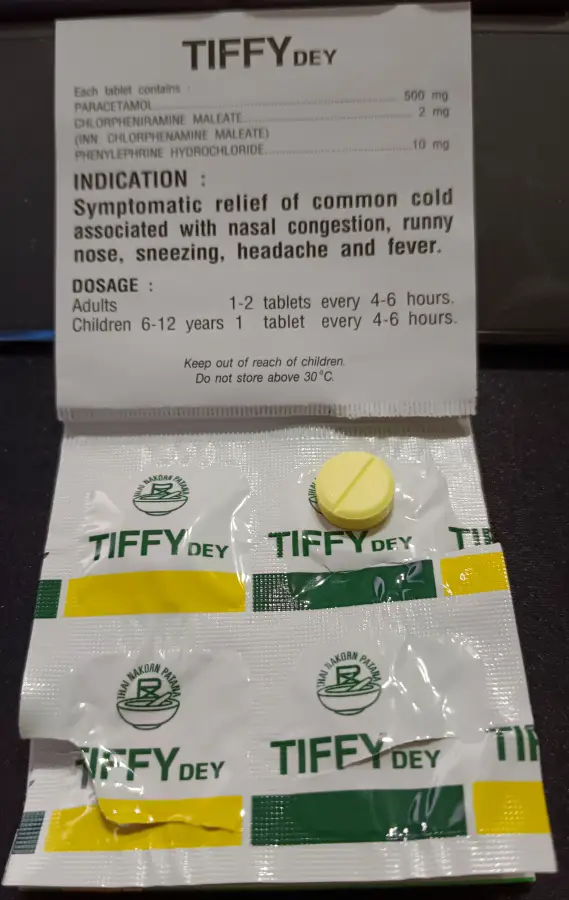 If you have a cold then you will want vitamin C, aspirin, or paracetamol, and possibly a decongestant.
All are available in the pharmacy closest to you.
One medicine that many Thai people use is Tiffy – which has a combination of paracetamol and decongestant.
Tiffy can be found at the closest 7-11. Update – 7-11 no longer stock Tiffy as of January 2023.
It is available in a 4-pill paper sleeve like this. These sleeves of 4 pills cost 10 baht at any pharmacy.
I have used Tiffy on many occasions, as have members of my family. It is a good quick fix to get you out the door and back into life.
Note: I am not a doctor, and this is not medical advice, I am simply letting you know what is available, the choice is up to you. Read the label if there are medications you are allergic to do not take Tiffy.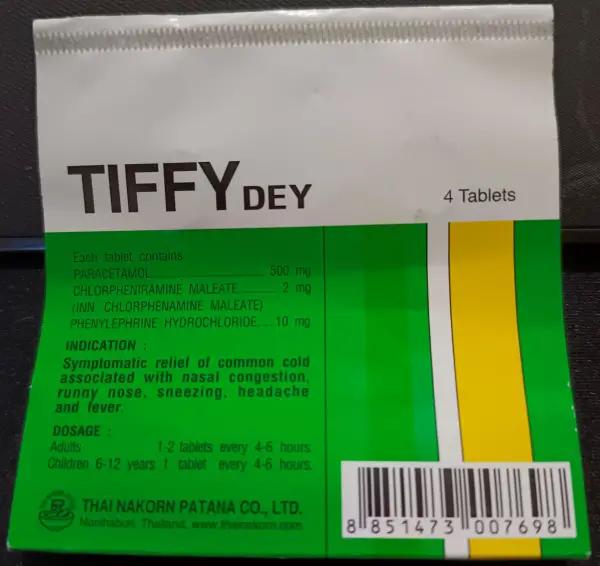 Antibiotics
If you think you need antibiotics and or you need a doctor, the above words will work as well, though many doctors here will speak some English to help you along. You can get antibiotics direct from many pharmacies but remember you do not want to develop a resistance to antibiotics, so be cautious when accepting them without checking with a doctor first.
Hospitals
Hospital emergency rooms run 24/7, so if you need help just get to the closest hospital. There will be people there who can help you. Private and Government hospitals are very efficient here. You will not have to wait long for treatment, but you will have to pay. Note: in all likelihood, even with insurance, you will need to pay first and claim it back from your insurer.
Private Hospitals
Note: The majority of the private hospitals in Thailand have dedicated translators available for English and many other commonly spoken languages. Many of the staff themselves will speak English fluently and do not be surprised to find that many of the doctors have trained overseas.
As of 2022, there are over 404 private hospitals operating in Thailand. Courtesy Wikipedia.
Private hospitals range from 5-star mega facilities to smaller private affairs. There is a multitude of choices and price points available. The premier hospital is often stated as Bumrungrad Hospital just off Sukhumvit road in Bangkok. It is arguably the best private hospital in Bangkok. It has state-of-the-art facilities and a great staff. Bumrungrad is well-known in Asia and the middle east for providing superlative care.
However, while Bumrungrad is indeed a great hospital; Bangkok Dusit Medical Services offers a wider network of facilities that spans all of Thailand. The BDMS group has 56 hospitals and 8424 beds available as of December 2022. It is a vast network of facilities that also produces and sells its own medicines through ANB Laboratories, Medic Pharma, and Save Drug Stores. Several hospitals within their portfolio of properties rival Bumrungrad alone, and as a group can only be considered superior.
Hospitals that are part of the BDMS group include The Bangkok Hospital group (28 hospitals around Thailand). Sametivej Hospitals (7 hospitals around Thailand), Phyathai (6 hospitals), and Paolo (8 hospitals), to name a few. Many of these hospitals specialize in different treatments and as a group are an excellent source of quality medical care.
These are the major hospital groups, there are many smaller private facilities dotted throughout Bangkok and many of the major centers of Thailand.
Insider Note: If you do go to a private hospital, remember the price you will pay for the hospital to dispense medicine will most likely be 60 to 100% more than the exact same medicine purchased at a local pharmacy. It is one of the ways that hospitals increase their revenue. 
When I go to a hospital, I will normally ask the doctor to simply give me the name of the medicine and the prescription required. Then I will exit the hospital and purchase it at the closest pharmacy. 
Not all pharmacies will have the exact same medicine, so beware of what you are buying! If in doubt purchase through the hospital pharmacy.
Public Hospitals (Government Hospitals)
Public or Government Hospitals are everywhere in Thailand.
As of 2022, there are a total of 901 hospitals operating under the management of the Office of the Permanent Secretary 775 community hospitals, 92 general hospitals, and 34 regional hospitals. Courtesy Wikipedia.
In addition to these, there are over 30 hospitals that are affiliated directly with universities. The Military and Police have their own facilities, as do some government utilities.
Anyone is welcome at the government facilities, if you are not Thai and do not have universal health care you will be treated as a cash patient and will have to pay the bill once released. Many of the government facilities are spartan, however, some larger facilities have dedicated clinics that rival the best of the private facilities. University hospitals are on the cutting edge of medicine and between them and the government facilities turn out a number of doctors, nurses, and health practitioners every year.
Clinics
There are many clinics available in Thailand. Similar to pharmacies, they are available all over the country and they will have a doctor available to treat your ailments. These are fully trained and licensed doctors, though their command of English may be more limited than what is available in the bigger hospitals.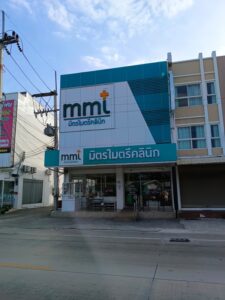 One clinic that has sprung up recently in and around Pattaya is mmt. 
These clinics first appeared 3 to 4 years ago and have expanded rapidly. I know of at least 5 of them and I am sure there are more that I have not seen. They are clean, modern, and well-stocked.
MMT clinics open at 0800, with a doctor available from 0900 until ~1900 to 2000 hrs.
Clinic prices are 40 to 50% of what a private hospital will be, however, they will only be slightly cheaper than the government hospitals.
I went to mmt today as I have a cold that is lingering. The clinic closest to me is about 2 km away located on soi Pattanakarn on the Darkside of Pattaya. No patients ahead of me meant I was taken in quickly. They asked me to perform an ATK Covid test before seeing the doctor. (It was negative). They took my blood pressure, blood oxygen, and body weight before going in. This is standard procedure when going to any clinic or hospital in Thailand. I was already registered at this clinic, so no paperwork to fill in before seeing the doctor.
The doctor listened to my woes, and asked questions about the medication I was on and or currently taking, she then examined me and recommended treatment.
The total time at mmt was 30 to 40 minutes. mmt (like most clinics) has medication on-site, so you do not need to go to the pharmacy.
There are many clinics available all over Thailand and they all keep similar hours. All the major hospitals will offer 24-hour clinics for any emergency.
In Summary – Where to go when sick in Thailand?
Thailand has healthcare well under control and facilities are available everywhere. From well-stocked pharmacies to government and private hospitals. There is always somewhere to turn when you are not feeling well. The Thai population is covered under their social security, and universal coverage healthcare system. Community health centers refer cases up the chain to the larger regional facilities.
Private health care here is counted among the best in the world, with many tourists arriving for medical care along with their holiday. Thailand has been actively promoting itself as a medical tourist destination for years. This is a trend that will definitely continue.
For the do-it-yourself doctor, there are pharmacies and clinics everywhere and they are well-stocked. Simply go to the closest one and get what you need.